Toddler Recipes: A Family Favorite...Ham Soup
Toddler Recipes: Ham and Bean Soup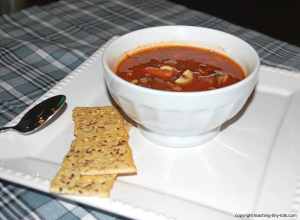 DESCRIPTION
My girl's are pretty good eaters but when it comes to soup...they only enjoy home made soups.

Here is our version of ham soup that our entire family enjoys. The brown sugar adds a touch of sweetness that makes this one a keeper.
INGREDIENTS
1 Ham bone (buy from deli or Honey Baked Hams)
1 (6 ounce) can tomato paste
1 (14.5 ounce) can stewed tomatoes
2 cups cooked beans (I like the soup beans which has a variety of beans in it)
1/2 cup celery
1/2 cup chopped carrots
1/2 cup chopped onion
1/3 to 1/2 cup macaroni
2 Tablespoons Light Brown Sugar
1 clove of garlic
MATERIALS
Five Quart Pot or larger
Spoon or Ladle
STEPS
Fill pot with about 8 cups of water.
Trim some ham off the bone if there is a lot extra to add later to the soup or for sandwiches.
Add clove of garlic and heat until boiling.
Lower heat to a low simmer and let it simmer for about two hours.
Lift out large bone and place in a bowl or on large dish.
Strain out large pieces of fat. I use a strainer with handle. Discard.
Replace bone in soup and add the remaining ingredients except for the macaroni.
Stir and simmer for another hour.
Remove the large Ham bone and either add ham you trimmed earlier or if you prefer cut the ham in small pieces frond he bone and return to pot.
Add macaroni and let simmer for another 15 minutes.
TIPS AND SUGGESTIONS

If you are using dry beans, prepare them ahead of time. As mentioned I like using the soup beans which has a nice variety of beans.
Keep it at a med low simmer so you don't boil off the water too quickly. The flavor gets stronger as it boils down so you don't want to dilute it because it is boiling too quickly.
Healthy tip...cool completely and then you will be able to skim the thin layer of fat from the top the following day and then reheat to eat.
You will need at least a 5 quart pot.
Add a dash of Cayenne to an individual bowl for adults only.


See here for some yummy toddler recipes.