Toddler Recipes: Double Chocolate Chip Cookies
Toddler Recipes: Double Chocolate Chip Cookies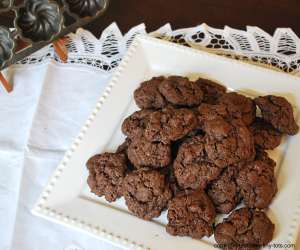 DESCRIPTION
Cocoa powder makes this chocolate chip cookie a chocolate lovers favorite! Easy to make and yummy.
INGREDIENTS
1 cup butter, softened
1 1/2 cups white sugar
2 eggs
2 teaspoons vanilla extract
2 cups all-purpose flour
2/3 cup cocoa powder (we like Nestles)
3/4 teaspoon baking soda
1/4 teaspoon salt
2 cups semisweet chocolate chips
MATERIALS
Cookie Sheet
Wire rack to cool
Two bowls
Spatula
STEPS
Preaheat oven to 350 degrees F (175 degrees C)
In a large bowl, beat softend butter, sugar, eggs and vanilla until light and fluffy. (I used a mixer for this)
In another bowl combine the flour, cocoa, baking soda and salt. Stir into the butter mixture until well blended.
Mix in the chocolate chips.
Drop by rounded teaspoonfuls onto ungreased cookie sheets.
Bake 8-10 minutes in the preheated oven.
Cool slightly on cookie sheet before transferring to wire racks.
Makes about 60 cookies
TIPS AND SUGGESTIONS
We found this dough to be a little drier than most cookie doughs. The girls just pinched off "balls of dough" and placed on cookie sheet.
We cooked it for 10 minutes, you may need to test since it is hard to determine when it is done due to dark color.