Toddler Recipes: Creamy Strawberry-Orange Popsicles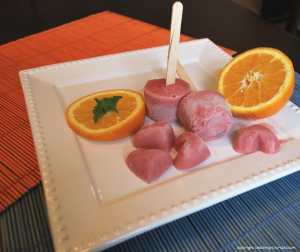 Toddler Recipes: Creamy Popsicles...a Healthier Alternative. DESCRIPTION

Make your own Summer Popsicles

INGREDIENTS

2 Yo-Baby 4 oz containers of Strawberry or strawberry mix flavored yogurt or 1 container (8 oz) strawberry flavored yogurt of your choice
3/4 cup orange juice
2 cups fresh whole strawberries
2 teaspoons vanilla

2 teaspoons sugar

OTHER ITEMS

food processor or blender
12 four oz paper cups. Popsicle containers can also be used. You can find these for $1.00 at Dollar Stores, Ikea.
12 Popsicle sticks if using paper cups. See Tips Below for other suggestions.
Measuring cups, teaspoon
8 x 8 pan
STEPS
Combine yogurt, orange juice and the vanilla in a food processor or a blender. Blend until smooth.
Add fresh strawberries cut in half with green tops removed. Add sugar. Blend until smooth.
Pour into paper cups filling each about 3/4 full.
Line up filled cups in a pan and place on a flat surface in your freezer.
Freeze for an hour. Insert wooden popsicle stick in the center of each cup.
Freeze completely. Peel cup when ready to serve.
TIPS AND SUGGESTIONS
Find a flat surface in your freezer that will have enough room after putting the popsicle sticks in.
Set a timer for one hour to remember when to stick the popsicle sticks into the popsicles!
If your toddler is older, pour the mix into a small measuring cup with spout and have your child help pour the mixture into each cup. Great opportunity for introducing what 3/4 means.
Frozen strawberries can be used if you do not have fresh strawberries.
OTHER IDEAS
Fun Shapes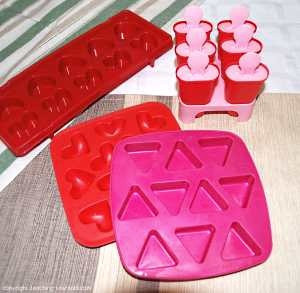 Use a fun shaped ice cube tray and make these tasty treats. There are now many trays you can find that offer hearts, stars and other fun shapes.

We found these items at the Dollar Tree, WalMart, and Ikea.









EDUCATIONAL TIPS
Write out the toddler recipe for your child to follow. Line up the ingredients on the counter so they can match ingredients on the recipe and follow along.
EDUCATIONAL NOTE
In the Southern U.S. and California, strawberry season begins in April. In the North, it begins in late May and early June. Fresh picked strawberries from a farm are much sweeter than your store bought fruit. Most store bought fruit are picked a little underripe. You can tell when they're white inside. Unripe berries will not ripen once picked. Ripe strawberries are a deep red color throughout. Smaller berries are often the most flavorful.
Strawberries are very healthy for you and when eaten fresh, eight medium-sized strawberries contain 140% of the U.S. RDA for Vitamin C. One cup of strawberries contains about 55 calories.