Toddler Recipes: Chocolate Chip Cookies
Toddler Recipes: Really Big Chocolate Chip Cookies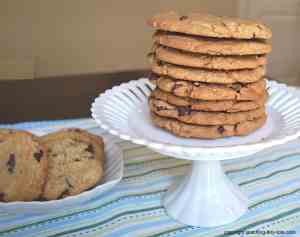 DESCRIPTION
Big big cookies...the girls had fun making this one. We measured the ingredients together, mommy mixed with the mixer, measured out the dough and they pressed onto the cookie sheet gently.
INGREDIENTS
1 cup butter, softened
2 cups brown sugar
6 Tablespoons white sugar
2 eggs
3 teaspoons vanilla extract
3 1/2 cups all-purpose flour
1 teaspoon baking powder
1 teaspoon baking soda
1 teaspoon salt
2 cups (12 ounces)chocolate chips
MATERIALS
Cookie Sheet(2)
Wire rack to cool
Two bowls
Mixer
Wooden Spoon
Tablespoon
STEPS
Preheat oven to 300 degrees F (150 degrees C)
In a large bowl, beat softened butter, brown sugar, and white sugar with an electric mixer until smooth.
Add eggs one at a time, blend eggs into mixture one at a time. Add vanilla with the second egg.
In another bowl combine the flour, baking powder, baking soda and salt. Stir gently with whisk or fork until blended.
Add flour mixture and mix with wooden spoon until just incorporated.
Fold in the chocolate chips just enough to evenly combine.
Divide the dough into 24 3 tablespoon-sized balls. Flatten the balls to about 1/4 inch thick onto a baking sheet.
Bake 14-17 minutes in the preheated oven.
Allow to cool 5-10 minutes on cookie sheet before transferring to wire racks. See tip.
TIPS AND SUGGESTIONS
This is a very dry dough, it has more flour than most recipes call for but it will hold together.
We cooked it for 14 minutes, and let it sit on the pan for 5 minutes. For crispier results, let sit for 10 minutes. The recipe originally called for 20 but the first time I tried this recipe, it turned very hard.
As always, adjust the time to your oven for best results.
NOTE
After trying five different chocolate chip recipes, this was the one selected by our family.