Toddler Recipes: Banana Crumb Muffins
Toddler Recipes: Banana Crumb Muffins with cinnamon and brown sugar streusel topping.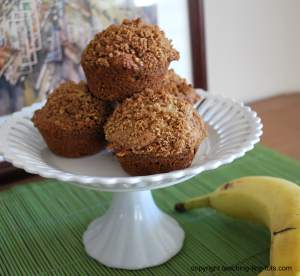 DESCRIPTION

This is a family favorite on Sunday mornings! Delicious Banana muffins with a special streusel topping.

INGREDIENTS


1 1/2 cups all-purpose flour
1 teaspoon baking soda
1 teaspoon baking powder
1/2 teaspoon salt
3 bananas, mashed
3/4 cup white sugar
1 egg, lightly beaten
1 teaspoon vanilla
Streusel Topping
2 Tablespoons all purpose flour
1 Tablespoon Butter
1/3 cup packed brown sugar
1/4 teaspoon ground cinnamon
OTHER MATERIALS

1 medium bowl, 1 large bowl, 1 small bowl
Muffin Tins
Muffin Cups
STEPS
Preheat oven to 375 degrees F (190 degrees C)
Lightly grease muffin tin or line with muffin cups (enough for ten muffins or 20-24 mini muffins).
In a large bowl, mix together 1 1/2 cups flour, baking soda, baking powder and salt.
In a medium size bowl, beat together bananas, white sugar, egg and melted butter.
Stir the banana mixture into the flour mixture just until moistened. Spoon batter into prepared muffin tins/cups until about 3/4 full.
In a small bowl, mix together brown sugar, 2 tablespoons flour and cinnamon.
Cut in 1 tablespoon butter until mixture resembles coarse cornmeal. Sprinkle topping generously over muffins.
Bake in preheated oven for 18 to 20 minutes or until a toothpick inserted into center of a muffin comes out clean.
Bake mini muffins for 15-17 minutes until a toothpick inserted into center of a muffin comes out clean.
TIPS AND SUGGESTIONS
Oven times will vary so check periodically.