Toddler Activities: Cute Terra Cotta Bunny Treat Holder
Description
Toddler Activities: Free Printable Pattern to Make A Cute Bunny Treat Holder. Fill with goodies and place in an Easter basket or use as a cute decoration. Cute party favor as well!
Materials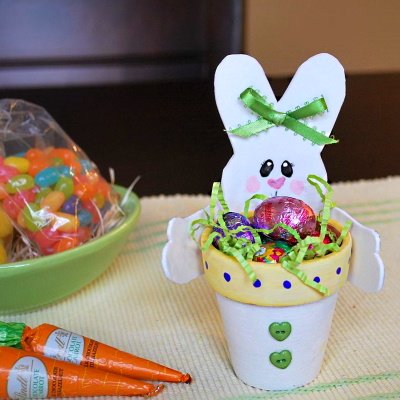 Small Terra Cotta Pot 2.5 inches across the top and about 2.5 inches tall

Small Piece of White Foam

Free printable bunny pattern for Terra Cotta Bunny

Acrylic, Ceramcoat Paint

Ribbons, Buttons

Thin Black Marker (Sharpie)

Craft Glue

Easter Grass or recycle and shred some colored paper

Small Easter Candy
Other Materials
Scissors

Brush, Q-tip for dots

Acrylic Sealant Spray (optional)

Paint Pen (optional, for adult use only)
Steps
Print out the bunny pattern.
Cut out bunny shape out of white foam.
Paint the terra cotta pot. Let dry.
Using back end of small brush, dip in black paint and make eyes.
Paint nose, cheeks.
Make bow and glue between ears.
When base color on terra cotta pot is dry, paint designs or glue on beads, buttons, glitter, or other small decor.
Glue the bunny to the pot as if he is holding it. Clip a clothespin on either side until it dries.
Tips and Suggestions
If you want to make sure paint doesn't overlap when your child is painting, cut a small piece of newspaper and wrap around pot to cover area not being painted. Wait until rim is dry before painting the lower portion of pot.
A permanent paint is suggested. We first tried Crayola washable but it was too light. I like Ceramcoat which can be found in craft stores. It is perfect for toddler activities because it is washable until it dries, and then dries permanent. Makes cleaning up easier from brushes and little fingers.
Spray terra cotta pot with Acrylic Spray outside in a well ventilated area after painting if you want it to be a little shiny. (Adult only)
DecoColor paint pens are easy to make dots and designs for toddler activities however this type of pen needs to be monitored very closely and or only be used by adult. See label for instructions and warnings. For young toddlers use back of paintbrush or a Q-tip for dots and thin lines.
If you use Elmer's glue you may need to clothes pin the arms to the pot until it dries a little. Don't keep the pin on for long or you will get an imprint on the foam from the clip. I like the Aleene's Fast Grab Tacky Glue for adhering foam.
If your pot is bigger, simply print out the pattern given and enlarge to the size needed.
Other Ideas
Fill a clear treat bag with candies like jelly bellies, gum drops or lemon drops and secure.
See example in above photo on left.
Educational Note
The Easter Bunny is a mythical character. It is said that the Easter Bunny brings baskets filled with colored eggs, candy and toys to the homes of children on the night before Easter. The Easter Bunny will put the baskets in a designated place or hide them somewhere in the house for the children to find when they wake up in the morning. The Easter Bunny can be compared to Santa Clause at Christmas since they both bring gifts to children on the eve of the holiday. Its origin is disputed but the Easter Bunny has been mentioned as early as 1600!
You Might Also Enjoy These Easter Activities Below