Toddler Activities: Decorating a Visor
Description
Toddler Activities: Personalize a Visor and Keep Cool this Summer. Don't forget the sunscreen. This is also a simple activity for a summer birthday party or beach themed event.
Materials
Foam visors are available at most craft stores in a variety of colors

Foam Stickers (there are all kinds of themes at craft stores: letters, sports, flowers, favorite characters, holidays)

Paint Pens (read instructions for safe use)

Permanent Paint in a Squeeze bottle (We found pretty colors for under $2 at Crafts stores and WalMart)

Foam Stickers or cut outs

Small craft items like Buttons or Button Flowers

Craft glue if you are using your own foam cut outs or craft items like buttons.

pencil for marking
Steps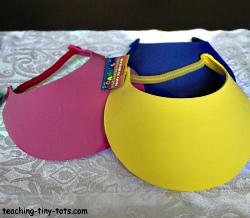 Choose a few different color visors to decorate. Coordinate with clothes or a favorite color.
Select your foam stickers.
If you plan to write names, have an adult use or assist with the paint pen for proper use.
Stick on foam stickers of choice.
Add glitter glue for a little sparkle.
Embellish with squeeze paint
Tips and Suggestions
I marked with a pencil where to put the paint
The girls practiced on an extra piece of foam first and I guided them where to put the dots. Flowers are four or five dots, with one in the middle. Hearts are made by writing the letter v very small. Squiggles and dots are the easiest to make.
If you choose to add a few items like buttons or sequins, use a craft glue for a secure bond. Don't put too many or it will weigh the visor down.
Other Ideas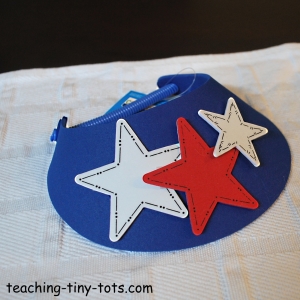 4th of July Celebration
Make party visors for the children attending a 4th of July outdoor event. Use foam stars, sequins or paint to decorate. Add a small photo or name on a star for fun.
Party Favor
Party idea
Having a beach themed party? This makes a perfect make and take activity. If you watch for sales you can get it for 2 or 3 for $1.00. Get a variety of colors and let the fun begin.
Or if you are having an outdoor party, you can make decorate ahead of time for each child to wear!