Candy Cane Reindeer
Description
Remember making classic candy cane reindeers? They are still fun to make for kids and perfect for Christmas decorations on the tree, to tie on a present, or hand out one to each classmate! Also a simple inexpensive craft to make in the classroom. See our tips below for making candy reindeers as a class.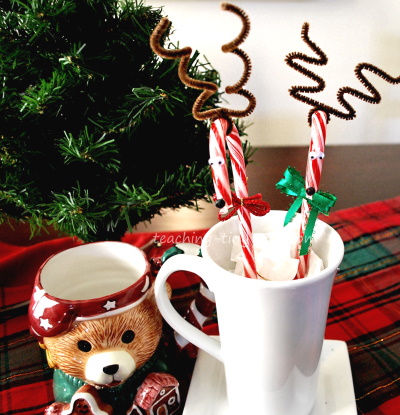 Materials
Candy Cane (individually wrapped)
Non Toxic Glue like Elmer's White School Glue or Non Toxic Craft Glue
Pair of wiggly eyes
Mini brown pompom for nose
One pipe cleaner (brown, red or green suggested)
Pencil for curling antlers.
Directions
Put a small dot of glue on the front of the candy cane hook for the nose.
Place glue above the nose for the wiggly eyes. Drop eyes on gently and press lightly to secure.
Let dry. If the candy canes came in a box that has sections separating each one, you can use that to put each candy cane reindeer back in there to dry.
When the glue is dry, bend one pipe cleaner in half and twist securely around top of candy cane.
Bend to form antlers or wrap around a child's first pencil to make the curly antler version. Trim if necessary.
With an older child, you can cut about two inches off each end and twist onto main piece to form branches off the main antler.
Make a bow with ribbon and tie around the "neck" of the reindeer.
Tips and Suggestions
Explain to your child to be gentle with the candy canes or they can break. Have a couple extra on hand.
Buy thicker candy canes for younger children so you can put on larger wiggly eyes. It will be easier for them to place onto the glue.
Classroom Tips
If it is for a large group of children, work in groups of four and five at a time. Have a little sticker like an mini address label or spot stickers with their initials on it
Pre made Christmas bows are another option to making each one.
Other Candy Cane Crafts
Candy Cane Ideas