Summer Can Hugs
Description
Perfect for a birthday party, or a make and take activity. Can Hugs are great for other special occasion like the Fourth of July or an outdoor event or party. You can find most of the materials at craft stores or if you prefer to shop online, I put a few links from Amazon below.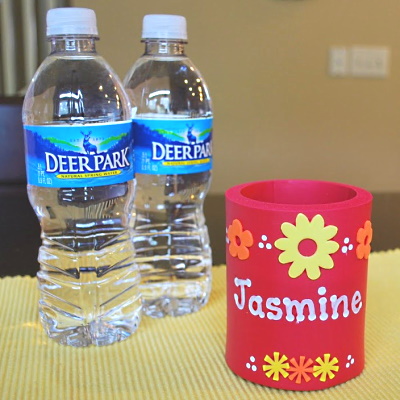 Materials
Can Hug available at most craft stores in a variety of colors or Amazon in link below as many are shopping online right now.
Foam Stickers (there are all kinds of themes at craft stores: letters, sports, flowers, favorite characters, holidays)
Paint Pens (Adult Use) We love Deco Color Brand. They are long lasting and if capped securely can last several years.
Glitter Glue
Permanent Paint in a Squeeze bottle
If you want this to be a longer lasting item and not just a party favor or for party use then you need to find a more permanent glue that can hold the foam stickers down. It is however not to be washed in a dishwasher. Follow cleaning instructions on label.
Steps
Choose a few different color can hugs to decorate. Coordinate with theme of party, holiday or a favorite color.
Select your foam stickers.
If you plan to write names, have an adult use or assist with the paint pen for proper use.
Stick on foam stickers of choice.
Add glitter glue for a little sparkle.
Tips and Suggestions
Can hugs can hold not only water bottles but sippy cups. When I wasn't using a cooler, I used to insert a can hug into pockets in my diaper bag to keep bottles chilled. The hugs just stayed in the pocket whenever I needed them and were not visible from outside of the bag.
These are not dishwash safe and best just wiped down gently after use. If you a more permanent use out of this you may need to use a waterproof glue for the foam stickers or just decorate with paint pens.
Note
This is best used for water or juices. If you freeze the water and let sit before drinking it will stay cold for much longer. Milk can spoil if the temperature of the milk varies too much. When there is an increase in temperature and then a rapid decrease in heat occurs, bacteria can form. If the milk gets too warm, it can spoil and actually curdle.
Other Occasions
Fourth of July
Here is a can hug for a Fourth of July celebration. They come in different sizes for different types of drinks. See our other
Fourth of July activities HERE