Watercolors with Little Yellow and Little Blue
Description
Crafts are a great way to motivate children to develop an interest in books and improve fine motor skills. It is also a fun way to spend time with your kids to create their own works of art. Watercolors are a great medium to use especially with young children. It is easy to use and clean up after. Read Little Blue and Little Yellow by Lio Lionni and use our free printable to make your own Little Blue and Little Yellow. Ages 3+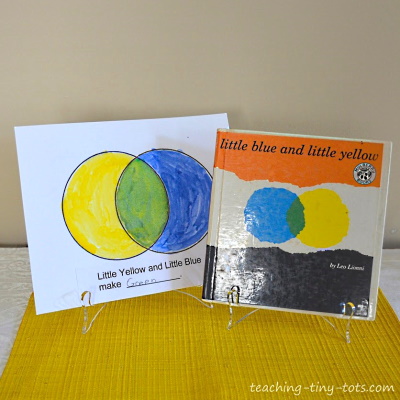 Materials
Other Materials
Glue Stick
Container to rinse brushes with water
Newspaper to work on
Steps
Read Little Blue and Little Yellow
Discuss what happened in the book. Review using the pictures in the book
Talk about their favorite part of the story.
Print our free printable circles or draw your own Venn Diagram.
Paint the circles.
Print out our page and fill in the blanks together. Cut into strips and glue onto correct page.
Bind into a mini book or post on a bulletin board.
Tips and Suggestions
We found the best results with a set of Crayola Watercolors . We tried two different brands of tube paint and it just didn't blend as easily for the girls.