Learning About Pumpkins
Description
Toddler Science: Fun Facts and Activities to Engage Your Toddler In a Pumpkin Carving Activity. Designed for a classroom activity as well.
Materials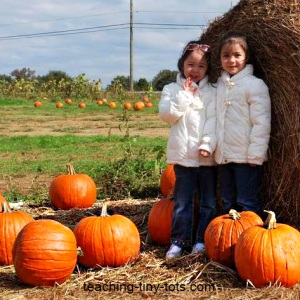 Pumpkin (1 per group of 4-6 children)

Free Printable Pumpkin Investigation Sheet We also have a Pumpkin True and False printable for additional questions below.

Tape Measure

Large Bucket

Scale

Sharpie or permanent pen

Serrated pumpkin carving knife (necessary if doing in the classroom)

Colander

Newspaper and paper towels
Steps
Select a pumpkin(s). If it is to be done in the classroom in groups, 1 pumpkin per 4-5 with supervision is a good sized group to work with. Select pumpkins of varying shape for best results.
Weigh at the store or bring in a scale to weigh in the classroom.
Print our Pumpkin Investigation sheet or write the questions you are interested in addressing on a large sheet of paper and place in a visible location during the activity.
Measure the height and width of the pumpkin. Record.
Count how many vertical lines there are. You can count all of the lines or just the lines that are more prominent
Weigh your pumpkin(s) or tell children the weights of each. They will often guess either all the pumpkins or the heavier pumpkins will sink.
Fill a bucket with water and predict if it will float or sink. Create a class graph. Test and record.
Plan your pumpkin faces, talk about shapes and have children draw on a paper to plan. I had each group vote on a face or plan a face with features from each child's design.
Draw the face on your pumpkin using a permanent marker.
Using a pumpkin cutter, cut out the lid first.
Scoop out the seeds into a colander. Hands are the easiest but I bring a few large plastic mixing spoons.
Rinse and remove as much of the orange stringy material as possible.
Carve the rest of the jack-o-lantern.
For older children or in the classroom, put the seeds into piles of ten.
Have children record a tally mark for each pile of ten. Have each group count their piles and share the results..
Tips for Classroom Carving
Pre-school or Kindergarten
Have a parent volunteer(s).
Print our Pumpkin Investigation sheet or write the questions you are interested in addressing on a large sheet of paper and tape on a board in a visible location during the activity.
Buy one large pumpkin and do as a class activity.
After measurements for height and width are done, give each child a sheet of paper to draw what they want for pumpkin features.
Collect and choose which features will be selected and draw with a permanent marker onto the pumpkin.
If you have the serrated pumpkin knife, each child can have a turn at cutting the pumpkin and scooping out the seeds.
1st grade-4th grade
Have parents volunteer for this science activity. One parent per group is ideal.
Divide into groups and have one pumpkin for each group. 4-5 children is a good number. Designate a leader
Print out two copies of the Pumpkin Investigation for each group. Make one sheet the Hypothesis and then record actual findings on the second.
The leader will be the group recorder and write down the groups findings. The leader's role also should be to make sure everyone gets a turn and participates.
Weigh the pumpkins. If a scale is unavailable, weigh prior to purchase and mark lightly on bottom of pumpkin with a marker.
Measure the height and width of the pumpkin. Record.
Count how many vertical lines there are.
Fill a bucket with water. Hypothesize whether or not the pumpkin will sink or float. If you have a really large and small ask this question about both pumpkins. Record answers and test. I buy a mini pumpkin to test as well.
Have each group decide on the pumpkin's design and cut with serrated pumpkin knives.
Place seeds into piles of ten and tally on sheet.
Compare results with class.
Helpful Tips
Select a pumpkin with distinct lines for easier counting.
Find pumpkins with varying shapes, round, tall, wide
Find pumpkin carving knives. They usually sell these pumpkin knives only during the Fall season. They are serrated with an orange handle and have a dull edge but make carving much easier and much much safer than a standard knife. (See Photo Above) I have used a set of these knives in the classroom for this activity for a number of years. The older sets are much more sturdy. The newer ones can bend a little. With assistance, a young child can help carve the pumpkin by guiding their hand carefully with these cutters. Without this pumpkin carving tool I would do this as a class activity with the children watching the carving portion.
If this activity is to be done in groups, be sure to arrange for additional adult assistance. Parents love to help with this activity.
Pumpkin Hypotheses
Here are a few more hypotheses you can do as a team or class especially with older toddlers or children. We have these questions for you to Print Here
Pumpkin True and False
The number of longitudinal lines of a pumpkin is always odd.
The larger the pumpkin, the more longitudinal lines you will count
The circumference is always greater than the height.
The size of the whole pumpkin will determine whether the pumpkin will sink or float. A large pumpkin will sink, a small pumpkin will float.
Cut pieces of pumpkin will float in water.
The larger the pumpkin, the more seeds it will contain.
Pumpkin Recipes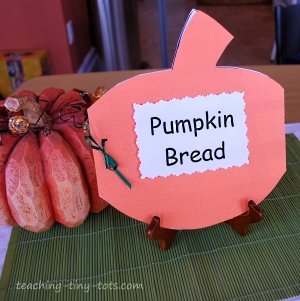 Here is a recipe for
Pumpkin Bread and a Free Printable Book to make
Like Roasted Pumpkin Seeds? We made this right at school in a toaster oven. Here is our version:
Roasted Pumpkin Seeds
Visit a Pumpkin Farm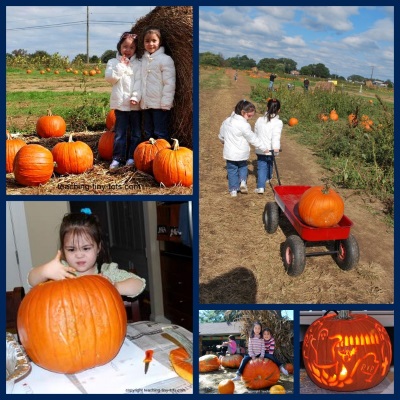 Scientific Processes
Observation
Seeing Watching and engaging in the activity
Hearing Listening to directions given.
Touching Touching the rough exterior, helping to scrape the insides of the pumpkin, and counting the slippery seeds.
Tasting Roast the pumpkin seeds to taste. Be sure to help your child remove the outer shell.
SmellingA pumpkin has a very distinct smell when cut open. Smell on of the cut pieces. Roasting pumpkin seeds smell great!
Communication
Oral Use lots of descriptive words: orange, heavy, big, small. Discussing what you are going to do: measure, weigh, count.
Written Print out the Pumpkin Investigation sheet or write questions and answers on a large sheet and tape to easily view
Pictorial Showing pictures in a book or on the computer is a great way to introduce this activity.
Comparing
Measuring Using a tape measure to find the height and circumference of the pumpkin(s)
Weight How heavy is your pumpkin? Use a scale, compare if you have more than one pumpkin.
Quantity Comparison If you have more than one pumpkin than you can compare size, weight, number of lines, color and number of seeds it contains
Organizing
Data Gathering Write your answers on the Pumpkin Investigation sheet or on another large piece of paper
Sequencing Talk about the steps to carving a pumpkin in this toddler science activity. Write them on a piece of paper for your child to see.
Pumpkin Facts
The pumpkin is in the Cucurbitaceae or gourd family. It has a large trailing vine, heart shaped leaves and a prickly stem. The plant produces large yellow flowers. Pumpkins generally weigh about 9-18 pounds or 4-8 kg. The current world record is held by Joe Jutras from Rhode Island, brought a 1,689 pound pumpkin to the Topsfield Fair GPC weigh-off in Topsfield, Ma. on September 29, 2007! Although pumpkins are usually orange or yellow, some are dark green, pale green, orange-yellow, white, or red and gray. The most popular pumpkins are the orange colored pumpkin and the straw colored pumpkin, which is the type used for canned pumpkin. Pumpkins are used as a filling for pies, pastries, and puddings.
Pumpkins were one of the first crops in America. The Indians raised pumpkins before white settlers arrived. The Indians used pumpkin as a food in soup. They dried it and ground it into meal, they boiled it and then baked it. The Indians cut pumpkins into rings and dried them for the winter.
The first pumpkin pie was made in New England by cutting off the top, taking out the seeds, and filling the inside with milk and spices. Maple syrup or some other natural sweetener was added and the whole pumpkin was cooked.