Toddler Math: Conversation Hearts
Description
Toddler Math: Identify Color, Sort, Count and Graph Conversation Hearts. Sort by color or count and graph how many in each color. Great one on one activity or a fun Valentine's themed classroom learning activity.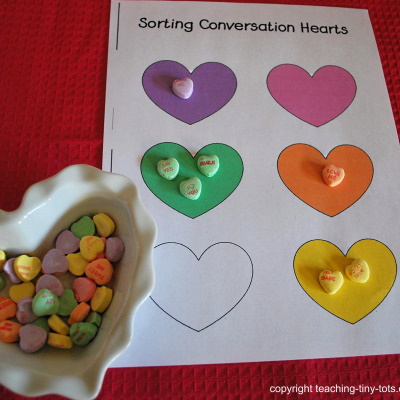 Materials
Free Printable Sorting and Graphing Pages.
1 box of Conversation Sweethearts or for group or class activity buy the bag and distribute about 30 pieces each child.
Crayons
Small dish or paper plate for candies
Steps
Print out copies for each child or group.
Sort candies by color on sorting sheet
Count how many of each color or just practice identifying the colors.
Place candies on the graph. Count how many of each color.
Older children can count how many and color the number of hearts for each.
Tips and Suggestions
Color using the corresponding color except for white.
For class activities you can buy these hearts in a large bag.
Great preschool toddler math activity. Have children work in pairs.
Other Ideas
Use muffin tins to sort if you want a physical container.
Free Valentines Printables from Teaching Tiny Tots
Educational Note
The modern Sweethearts Conversation Hearts, which have become an American icon, dates back to the early 1900's. Some of the original sayings that can be found in boxes today include Be Mine, Be Good, Be True, My Man, Kiss Me, and Sweet Talk. In the early 1990's, NECCO decided to add new sayings each year. Thousands of suggestions are compiled every year from candy lovers and school kids around the globe. The recipe has remained basically unchanged. Conversation Hearts are made of 90 percent sugar, a dash of corn syrup, gelatin, gums, and artificial colors and flavorings. Once the dough is rolled out, imprinted with a saying and then stamped out in the familiar heart-shape, it goes through a 45-minute drying cycle to reach its semi-hard consistency.
To meet the demand for Valentines Day, NECCO produces approximately eight billion candies throughout the year. The entire production, more than 100,000 pounds a day, sells out in just six weeks.