Candy Sort and Count
Description
Reinforce counting and number representation by filling Halloween Treat Bags. Children love to help! Here is an easy way to let your toddler help fill Halloween Trick or Treat bags while reinforcing counting at the same time. I included this simple concept because it was the basis for a lot of simple tasks that we used to help reinforce basic concepts since they were very young. We used this to reinforce colors, numbers, counting, identifying letters, words and more.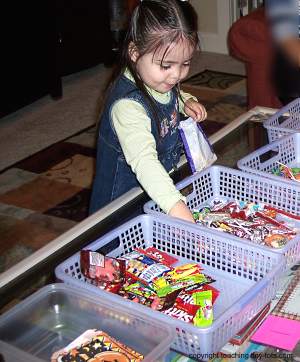 Materials
Halloween Treat Bags
Candies
Baskets, trays or baking pans
Post It Notes
Bucket or baskets to place filled treat bags
Steps
Line up baskets in a row and label each with a post it note using numbers (1,2,3,etc.) or even letters (A,B,C).
Sort candy into baskets. Pour each bag into a different basket or have your child do the sorting. You can sort by
TYPES: lollipops, chocolates, hard candies
SIZE: large and small
Explain the order to fill the bags.
Open the treat bag and hand it to your child. Count and point to basket as your child puts the treat inside.
Place filled treat bags into a Halloween Basket or Tub.
Tips and Suggestions
Point to the candies and count to help build one to one correspondence.
When they put too much candy in one bag or too few...use it as a great learning opportunity. Count how many there are and see if your child can tell you if there are too many or too few.
Count the number of bags you made and keep a record of how many you needed for future reference
Math Concepts
Numbers and Number Sense
Counting
Recognize (Read) Numbers
Practice recognition of numbers using the post it notes to label order of baskets.
Represent (How many is three?)
Setting a certain number of candy per bag helps learn what that number means.
Quantity (More, Less, Equal)
Guiding your child as they fill the bags will help reinforce meaning of quantity. Use descriptive language and sentences like, "Put one more in the bag." "We want all the bags to have the same amount so that they are equal."
Educational Notes
The reason counting activities are very important is because it helps to develop the three aspects of numbers.
Counting in a sequence out loud: 1,2,3, etc.
Understanding how much is 3 and being able to show or give three items.
Recognizing and writing numbers.