Touch and Feel Numbers Book
Description
Young children enjoy board books with textures like Pat the Bunny. Why not make a touch and feel counting book or make each number into small posters for your classroom as a fun visual reinforcing number sense. This also can be used a tactile flash cards for your child. This is a great for a hands-on Math Center. Here are some suggestions for making your own book with your child or to make in the classroom. If you are not binding the book you can use a great variety of textures.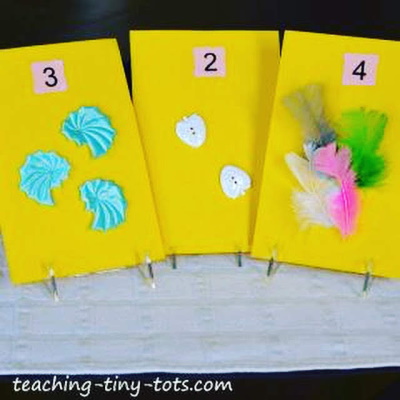 Materials for Your Touch and Feel Number Book
Cardstock or construction paper cut to size of choice.

Print Teaching Tiny Tots's # 1-25 Sheet

Pencil, Scissors

Non Toxic Craft Glue like Aleenes or Fabri-tac with adult supervision works best for a stronger bond but Elmer's School glue will also work for some textures. Glue sticks will not hold these items.

Ideas for textures:
Fabric like velour, denim, cotton, buttons, fabric filled shapes, foam shapes, stickers, craft sticks, ribbon, rhinestones (with supervision). Feathers, felt, sandpaper squares. Q-tips and cotton balls, pom poms, pipe cleaners, beads and beans.
Steps
Print our free printable from the link above or simply write numbers clearly at the top of the page with a black Sharpie or pen.
Decide what textures to use for each page.
Have your child line up the selected pieces in a row and count together.
Glue using Elmer's or a non toxic craft glue for a stronger bond.
Arrange in a number train across the classroom for everyone to enjoy or use in a Math Center.
Tips and Suggestions
If the book is for a very young toddler, make sure pieces are glued well. A craft glue will have a stronger hold but will require supervision.
Make sure you read this book together with your child and discuss textures, count how many, trace the number with their fingers. That way you can also monitor any pieces that get loose.
Make a page a day rather than trying to complete the entire book. For preschool focus the number of the day.
Other Ideas
Bind it into a book using flatter items like stickers and pieces of various material in different shapes for variety. Foam Stickers are also easy and fast for younger children.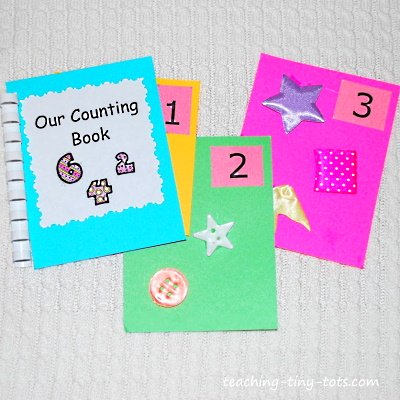 Another Number Book Idea
Use wrapping paper, paint chips or construction paper and just focus on shapes or colors.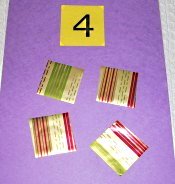 Some Touch and Feel Number Books Suggestions