Snowflakes Ornaments
Description
Toddler Books: Introduce this snowflake ornament making activity with a book about snowflakes. Cute decorations to use for winter parties or for Christmas tree decorations. Download Printable instructions here:
Popsicle Snowflake Directions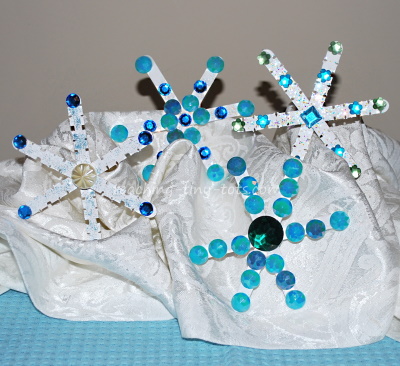 Materials
Popsicle Sticks

Non Toxic Craft Glue
White Paint (Tempera or Ceramcoat)
Glitter (silver, iridescent, and light turquoise blue)
Rhinestones, Sequins, pom poms, stickers, foam shapes, glitter glue
Other Materials
Steps
Read a book(s) about snowflakes. A suggestion is Tiny Snowflake Picture Book
Line table with newspaper or plastic covering to protect the surface. Lay the first popsicle stick flat on the newspaper. Place a drop of glue on the middle of the first stick, lay the second stick on top. Place a dot of glue on the second stick and lay the third stick on top. This should form the snowflake shape. Let dry completely before the next step for best results.
When the popsicle sticks have dried and are secure, paint your snowflake white.
Add glitter while paint is wet. Let dry.
Have rhinestones ready to glue.
Glue on to the Popsicle craft sticks. Let dry.
Using craft glue or glue gun, glue a loop of ribbon, white pipe cleaner to hang. If you are making a mobile, tie a piece of fishing line to your snowflake and secure to a hanger. Cover hanger with wrapping paper or printed tissue and glue on stretched cotton balls for "clouds".
Tips and Suggestions
If working with a young toddler, have them select a rhinestone and point to where they would like to have it glued. Have adult put a drop of glue onto the snowflake and let your child place the rhinestone.
You can find craft rhinestones at education supply stores or at craft stores. Stores like Walmart that have a craft section also carry rhinestones and other decorative items.
Educational Idea
Other Ideas
Buttons and Fancy Snowflake Design
Here is a more complex snowflake design for older kids.
We cut twelve 1.5 inch pieces and glued them to the back of the original snowflake pattern. I have seen short craft sticks that would be much easier to use than to cut long sticks. Glitter was added when paint was wet and then buttons glued on for decoration.