The Very Hungry Caterpillar Crafts

Description
This toddler book is about caterpillar's journey as he eats his way through one apple on Monday, two pears on Tuesday, three plums on Wednesday, and so forth, until he is really fat and has a tummy ache. You can guess what is about to happen! It's a great book introducing concepts such as:
Nutrition
Counting
Science (stages of a butterfly)
Days of the week
After reading the The Very Hungry Caterpillar, make your own hungry caterpillar using an egg carton. Older toddlers will enjoy making their own Very Hungry Caterpillar book.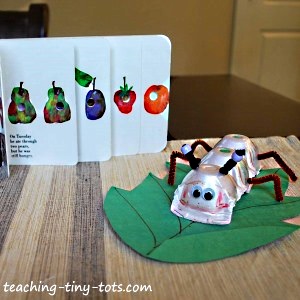 Materials
1 egg carton
1 pair Wiggly Eyes
1 brown pipe cleaner and 1 black pipe cleaner
Markers
1 sheet of green construction paper
2 pony beads.
Craft Glue or Elmer's Glue.
Scissors
Steps
Read and discuss The Very Hungry Caterpillar in the book.
Cut out three connected egg holders from the egg carton.
Poke very small holes with tip of scissors or pipe cleaner (Adult only) for legs and antennae
Cut pieces of pipe cleaner about 2 inches long and bend in half. Cut however many legs you want the caterpillar to have.
Cut black piece of pipe cleaner about 3-4 inches long. You can trim to shorten after you string it through the holes.
Decorate with marker.
Glue on eyes.
Poke bent pipe cleaners into holes made. Bend on the inside to hold in place.
String one piece of pipe cleaner down into hole and back up the second. Arrange antennas.
String a pony bead on each antennae.
Cut out a big green leaf and glue your caterpillar onto it.
Tip
For young children, precut the pipe cleaners and have all materials ready to make
Make Your Own Hungry Caterpillar Book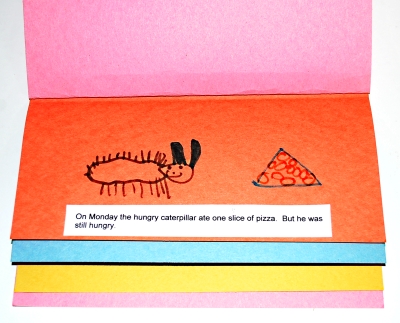 Materials
7-10 different colored construction paper.
Markers or crayons.
Scissors or paper cutter
Stapler (Adult use only)
Colored Tape
Steps
Cut each page 1/2 inch longer than the previous to get the layers. Our first page is 4 inches, the second 4 1/2 inches and so forth.
Discuss what you are going to draw on each page. Refer to the book as a reference. Encourage your child to think of their favorite foods. Write it down for them to see and try to select ones that are easy to draw and original.
Draw your pictures.
Write or print a sentence for each picture.
Fold a sheet of construction paper in half to form the cover. Write the title and your child's name as the author.
Staple the book at the top with 3 staples. Cover with colored tape.
Tips and Suggestions
To avoid confusion, work on one page at a time. For children making their first toddler book, you might focus on one or two pages a day.
If your child draws off topic, praise your child and talk about what she/he drew. You can just replace that page with another sheet and save that picture for display.
Limit the pages to what you feel your child can do. We did 5 days, the cocoon and the butterfly. A total of 7 pages for the book.