Wreath Ornament

Description
Cute wreaths make this one a perfect tree ornament, Christmas decoration or tie on for a gift. This wreath can be made with scrap materials in red, white and green in any pattern. These will last years with proper storage. This can be done in small groups with an adult assisting. This was an activity with over 200 children participating. Best for ages 5 and up because of the fine motor skills required.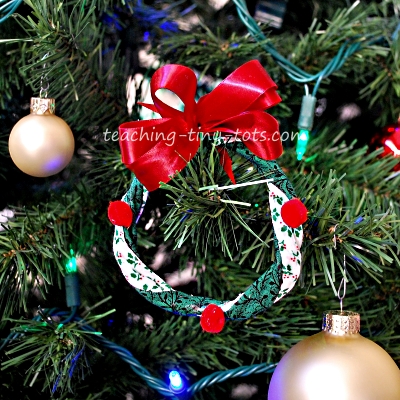 Materials
2 Strips of material in green, red or white patterns. Approximately 4" wide x 12" long per ornament.
Non Toxic Glue like Elmer's White School Glue
Craft glue like Aleenes or Fabri-Tac for pom poms for best results. Another option is a low temp glue gun.
Sponge Brush
2 Chenille stems per wreath ornament
Ribbon
Small Red pom poms
Scissors for cutting strips.
Small dish for glue
Surface to work on such as foil pan.
Steps
Cut two strips per ornament. Cut it four inches wide and a little longer than your chenille stem. Most chenille stems are 12 inches long.
Add a little water to the glue to make it easier to brush on the material
Brush glue on the entire piece of material on the back.
Place chenille stem at one end and roll the material around it until it's completely covered. Adult may need to help start the rolling.
Repeat with second chenille stem.
Not take the two covered chenille stems, line them up with each other and then twist them gently together. Take the two ends of the chenille stems, bend into a circle and twist the ends together to secure.
Tie a bow where you secured the chenille stems to cover.
Glue on pom poms to make the berries. Use craft glue for best results.
Tips and Suggestions
Show your child how to hold one end of the material and brush away from that hand.
Start rolling the material over the chenille stem to make it easier to roll.