Stained Glass Hearts
Description
Toddler Activities: Stained glass hearts using wax paper and crayon shavings will brighten up any window. I used to make stained glass hearts with children in the classroom. We made it into a card for parents by cutting a heart out of construction paper and replacing it with one of these hearts. I saw these hearts on Martha Stewart made into a mobile so we made one too.
Materials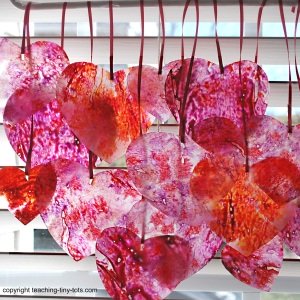 Download the directions here:
Stained Glass Hearts
Heart shaped stencils or cookie cutters

Crayons

Kid's Pencil Sharpener with sharpener for jumbo pencils

Small dish or container for crayon shavings

Wax Paper 12 x 12 inch pieces

Paper Towels

Iron

Ribbon or yarn

Hole Punch

Craft Glue

Sharpie Pen

Ironing board or flat hard surface to iron on.

Hanger (optional)
Steps
Sharpen colors using large sharpener. Collect shavings in small dish.
Lay a couple paper towels or an old dishcloth on the ironing board or surface to be ironed. Color will transfer
Lay a sheet of waxed paper onto the towels.
Sprinkle shavings lightly for best results leaving a two inch margin all around.
Place second sheet of waxed paper on top.
Place another paper towel on top of the waxed paper.
Heat iron on low setting and press on paper towel/waxed paper for two seconds, lift and repeat until shavings have melted. (Adult step)
Sliding the iron will create more blending.
Cut out heart shapes in various sizes tracing stencils, cookie cutters or free hand with a sharpie.
Tape ribbon to back of heart or punch hole and slip ribbon through hole. Glue loop and let dry.
Tape hearts to hanger or window.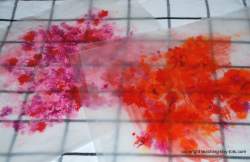 Tips and Suggestions
I used a dish towel and there was some color transfer so paper towels are recommended.
If staining is a concern, use washable crayons.
Do not fold to cut out heart shape. There will be a crease down the middle and the heart may not lay flat.
We traced cookie cutters with a sharpie. The cutters came in a pack of 6 varied sizes for about $2 US.
Sprinkle crayon shavings lightly, we tried one with a lot of shavings and it doesn't show the light well through the heart and turned into almost a solid color.
We used Offray Polyester Ribbon in 1/8" (3mm)
Other Ideas
Fold a piece of construction paper in half. Fold top piece into halves again. Draw ear shape to create heart or trace half a heart stencil. Cut out heart Tape heart to back of card. Make sure heart you cut out is smaller than the stained glass heart.