Toddler Activities: Halloween Pumpkin
Description
Toddler Activities using tissue and Elmer's glue, make a Halloween Jack-o-Lantern.
Materials
Black Construction Paper

Pencil

Orange Tissue Paper

Green Tissue Paper

Elmer's Glue

Small dish and brush

Acrylic Spray (optional)
Helpful Items
Scissors
Small tray, plate or container for the tissue squares
Newspaper to work on
Art smock or old shirt
Steps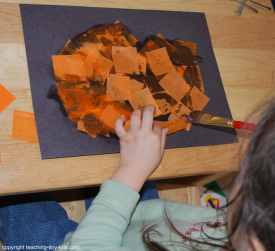 Draw a pumpkin shape with pencil on the black paper. Show your child the outlines.
In a small dish put about a tablespoon of Elmer's glue and about two teaspoons of water. Mix thoroughly with brush.
Brush half the pumpkin with the Elmer's glue mixture. A brush about 3/4 inch wide works well.
Lay tissue squares onto the glue. Brush another light coat of Elmer's glue over the tissue gently.
Add a second of tissue. Again lightly brush the tissue with glue. Add a third layer if you want more color or leave it a little more sheer with just two.
Brush glue on the other half of the pumpkin. Lay squares again in two or three layers.
Add green tissue for the stem.
Brush over entire picture lightly to seal all edges.
Glue on eyes, nose and mouth cut from black construction paper.
Let dry.
For a light shine, spray with acrylic spray in well ventilated area. (Adult only)
Tips and Suggestions
If your child is a young toddler you can brush on the glue and let your child just lay the tissue on the glue.
Other Ideas
Make other Halloween subjects like a ghost with white tissue or a black cat on orange construction paper, a bat on white.
Educational Tip
Read a Halloween story about a pumpkin. Have your child give their pumpkin a name or have your child tell you a simple sentence about the pumpkin and write it for him or her on another sheet of paper.