St. Patrick's Pot of Gold 
Description
A cute St. Patrick's Day craft. Make this pot of gold with a rainbow. Make for a party favor with chocolate coins or as a culminating craft for celebrating St. Patrick's Day.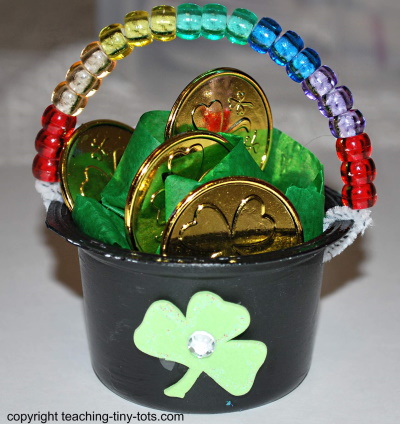 Materials for Pot of Gold
1 white yogurt cup
Green Tissue
Black Paint and Brush
1 pipe cleaner
Rainbow colored pony beads
Foam shamrock or green rhinestones, stickers
Gold Coins or Gold Wrapped Candy
Scissors
Steps
Paint the outside and top rim of yogurt cup black. Let dry.
Spray cup with Acrylic spray to make it shiny and seal the paint.
Adult used tip of scissors to make a small hole on either side near the top.
String beads on pipe cleaner to make the rainbow handle.
When cup is dry decorate outside with stickers, foam shamrocks or rhinestones. You could also use Elmer's glue and glitter.
Poke ends of pipe cleaner into the cup and and twist to secure, trim excess. (Adult step)
Stuff the painted container with tissue and add a few gold coins or candy. We found the plastic shiny coins from
Tips and Suggestions
A white cup is much easier to cover with paint than a printed one.
Shamrock Puzzle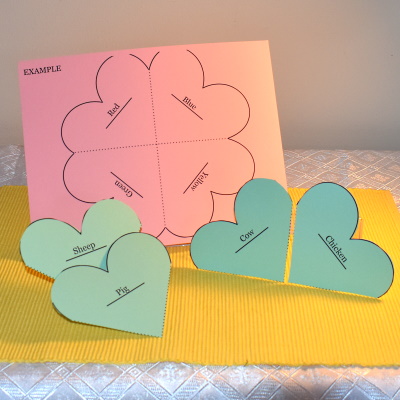 Description
We have these cute 4 piece Shamrock puzzles that you can reinforce reading sets of words. You could even put the picture on the back for those who are still learning to read. Picture clues are a great way for starting readers to build vocabulary. Xerox onto colored paper or construction for a more lasting set. You could do different colors for different sets. We also have a page with smaller shamrocks for older children. Simply print the page you want to use. These would work great in a quiet center.
Materials
Print our Shamrock Puzzle
Colored paper of construction paper
Scissors
Marker or labels for words
Pictures (optional)
Steps
Decide if you are making the large or small puzzles and print however many copies you need in the colors you want.
Write or label each piece and cut out. Laminate for long term use.
Glue on pictures if these are for younger children on the back to help them associate the word with the picture.
Educational Note
The leprechaun is Ireland's national fairy. He stands less than 3 feet tall, is dressed all in green, and wears a pointy, feathered cap atop his head. Legend states that if you are lucky enough to find a leprechaun, you must be careful not to let him out of your sight until he tells you where the pot of gold is. You had better be on your toes, though, because leprechauns are known to be cunning and quick. In the blink of an eye, he will disappear taking your hopes for good fortune with him.