St. Patrick's Pot of Gold 
Description
A cute St. Patrick's Day craft with a rainbow with a pot of gold.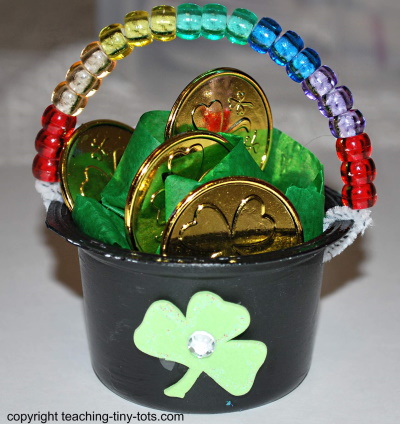 Materials
1 white yogurt cup
Green Tissue
Black Paint/Brush
1 pipe cleaner
Rainbow colored pony beads
Foam shamrock or green rhinestones, stickers
Gold Coins or Gold Wrapped Candy
Scissors
Steps
Paint outside and top rim of yogurt cup black. Let dry.
Adult used tip of scissors to make a small hole on either side near the top.
Have child string beads on pipe cleaner.
When cup is dry decorate outside with stickers, foam shamrocks or rhinestones if desired.
Poke ends of pipe cleaner into the cup and and twist to secure, trim excess. (Adult step)
Stuff with tissue and coins or candy.
Tips and Suggestions
Spray painted yogurt cup with silicone sealer if you want it to be shiny before decorating or adding the rainbow.
Educational Note
The leprechaun is Ireland's national fairy. He stands less than 3 feet tall, is dressed all in green, and wears a pointy, feathered cap atop his head. Legend states that if you are lucky enough to find a leprechaun, you must be careful not to let him out of your sight until he tells you where the pot of gold is. You had better be on your toes, though, because leprechauns are known to be cunning and quick. In the blink of an eye, he will disappear taking your hopes for good fortune with him.