Toddler Activities: Silicone Molds and Plaster of Paris
Description
Toddler Activities: Make ornaments using silicone molds and paint. Appropriate for ages 2 and up. See variety of molds below to suit any occasion. Download and print the directions here for future reference:
Plaster of Paris Ornaments
Materials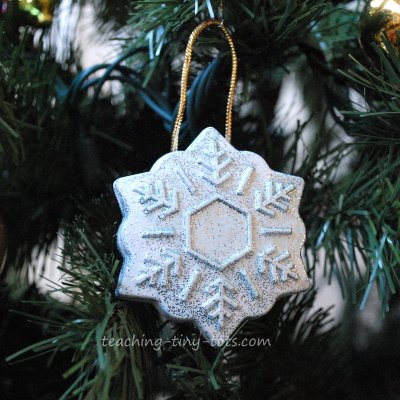 Plaster of Paris

Wilton 6 Cavity Silicone Snowflake Pan

Container and spoon to mix plaster

Tempera or Acrylic Paint

Brush

If you want to be able to have the option to hang it up: Yarn or Ribbon

Acrylic sealer spray if you want to add shine. (Adult step only)
Steps
Mix plaster in container according to directions.
Fill Mold with Plaster.
If you want to hang: Let dry for 2 minutes, then attach ribbon by pressing it gently into plaster at top.
Let dry and pop out of the mold.
Paint and let dry.
An iridescent or glitter paint will add shine or you can spray with Acrylic Sealer.
Tips and Suggestions
Due to the powder consistency of Plaster of Paris before adding water, mix out of reach of children. You might even consider using a face mask to prevent breathing in the powder.
I used both tempera and acrylic on plaster and they both work well. If it is a young toddler I'd recommend tempera since its easier to wash off.
Use a glitter paint to add sparkle or sprinkle on wet plaster or paris or paint.
For additional shine, an adult can spray acrylic onto finished project.
Other Ideas
Valentines Hearts
This heart was made using a
Wilton 6-Cavity Silicone Heart Mold Pan
Cute ornament that you can hang, use as a paperweight or give as a gift. Have your child paint, let dry and you can even write on it with paint pens to personalize for a special gift.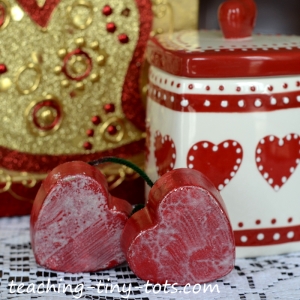 Easter Eggs
Here is an idea for Easter using a silicone Easter Egg mold. Great Make and Take Party activity. Just make the eggs ahead of time and have paint and brushes ready.