Photo Bouquet
Description
Make the photo frame flowers from foam, decorate, then add your favorite photos and make a photo bouquet. Cute gift for grandparents or a gift home from school for Mother's Day.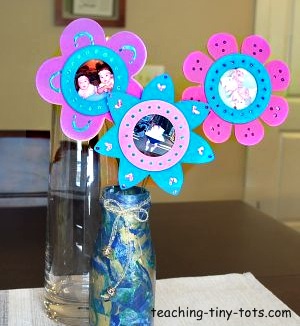 Materials
Foam in various colors.
Craft Glue
Fabric Paint in Squeeze Bottles (Scribbles) found at craft stores or stores with craft sections like WalMart
Colored Craft Sticks or 20ga Floral Wire
Photo 2 in x 1.5 inches
Other Materials
Other decorations: Glitter Glue, Buttons, foam stickers, etc.
Scissors
Clear Packing tape
Steps
Print out the flower page and trace onto your foam or cut your own foam flowers.
Decorate the flower with your choice of stickers, glitter glue, ribbon, beads etc. Use craft glue to adhere for better bond.
Let dry.
Print photos 2 in x 1.5 in.
Place glue around the entire circle ring. Center the photo in the back of each of the flower ring.
Add a little more glue and place ring with photo onto flower.
Tips and Suggestions
You can do a single flower but adding a flower on the back allows you to "arrange" the bouquet without worrying about seeing the back.
We used floral wire for a taller flower. Chenille stems are not strong enough to support the weight of the flower.
Other Ideas
Photo Mobile
Another variation on this toddler activity is to make a mobile. If you have a single hole punch, punch holes in the flower and string ribbon through the holes and hang from a colored hangar.
Other Photo Projects