Patriotic Pony Bead Necklace
Description
Here is a toddler activity using red, white (or silver) and blue star beads to make a necklace or bracelet. Perfect for the Fourth of July or just for fun. Easy classroom craft or a art center activity! Focus on patterns, shapes and the fine motor skills. Add a charm to personalize it.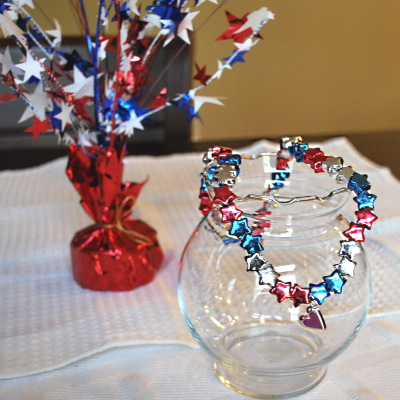 Materials
Red, white (or silver) and blue pony beads.
Stretch Magic or Beading Cord
Charms (optional)
Other Materials
Scissors
Craft Glue like Fabri Tac
Small Piece of Tape
Steps
Separate beads by color in a muffin tin or plastic containers.
Measure a length of beading cord around your child's wrist or neck. Be sure to add about 6 inches or more to make it easier to string.
Fold a small piece of masking or packing tape at the bottom of the bead string. This will keep beads from sliding off.
Lay out a pattern of red, white (or silver) and blue beads.
String beads and add charms if you desire.
Hold securely and try on child before knotting.
Tie a double knot and add a drop of craft glue especially if you use stretchy beading cord which can slip if you don't secure it with glue.
Let dry and snip extra cord.
Tips and Suggestions
Great opportunity to practice counting.
For older toddlers you might want to introduce a complex pattern like RR, WW, BB or RR, W, BB.
Math Concepts
Numbers and Number Sense
Counting: Practicing counting how many of one color.
Represent (How many is two,three, etc? Ask your child to give you two beads.
Quantity (More, Less, Equal): Make two piles and ask which one has more or less.
Patterns, Sorting and Classifying (Algebra and Functions)
Sorting Objects by Attribute (color, size or shape): Sorting by color in muffin tins
Simple Patterns: Laying beads out in a row in simple patterns and identifying the next bead.
Educational Note
In the United States Independence Day, often called the Fourth of July, is a federal holiday commemorating the adoption of the Declaration of Independence on July 4, 1776. Many people celebrate Independence Day by sending off fireworks, attending parades, having barbecues or holding picnics.