4th of July Heart Flag
Description
Using red, white and blue tissue to make a heart flag. Hang it, frame in a shadow box or send as a card to someone special. This was a classroom activity that we did for the Fourth of July.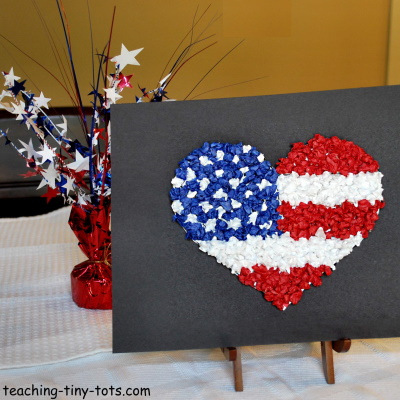 Materials
1 piece of construction paper or cardstock
Red and white tissue paper
Elmer's Non-Toxic Glue)
Packing tape or Tacky Craft Glue to attach ribbon securely
Scissors
Craft Glue
Small Piece of Tape
Ribbon about 6" if you plan to hang it with a ribbon.
Steps
Cut tissue into 1.5" squares.
Roll into balls
Put glue on one area at a time.
Place balls of tissue on glue without spaces. Let dry completely when done.
Cut carefully around the heart to eliminate the black line. Mount on construction paper or cardstock. Attach ribbon loop in back to hang heart with if you choose or frame.
Tips and Suggestions
This project is best done in 2-3 days. I had the girls roll up the balls of tissue one day and glue the second.
I had my girls work together on one flag. I marked the paper R for red W for white and B for blue to make sure they put the correct color in each area. I instructed them to glue the tissue balls closely so that there was no space in between them.
For the stars, I directed them to put one White on each star and then fill in with the blue around them. I had to put about a dozen blue pieces to help them make the starts stand out more but they did all the rest!
Other Countries
Here are a couple other flags you can make using tissue as well. I just selected a couple however there are many printable flags you can find where you can make a similar project!
Printable Canada Flag
Printable United Kingdom Flag
Other Ideas
St. Patrick's Day Shamrock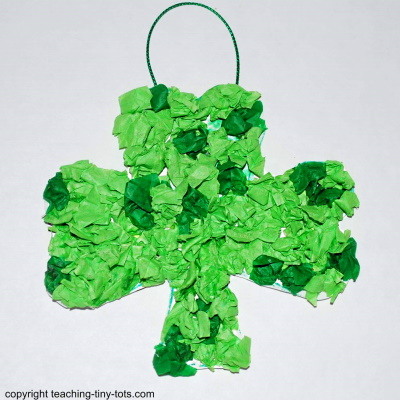 Materials
1 piece of white or green construction paper
Green Tissue in one or two shades cut into 1.5 inch squares.
Elmer's Non Toxic Glue
Ribbon if you want to hang.
Pencil to draw shamrock.
Scissors
Steps
Draw or print a shamrock shape onto construction paper.
Cut green tissue into squares approximately 1.5 inches.
Have child roll into small balls and glue onto shape.
Adult trims shape and adheres ribbon if you want to hang.
Tips and Suggestions
Older toddlers can use the pencil eraser method which will make the shamrock more puffy.
I used a cookie cutter and large stamp pad to make the shape but I did find some free printables of shamrocks online.
Educational Note
The shamrock is a symbol of Ireland. it is a three-leafed old white clover. It is a common way to celebrate St. Patrick's day by wearing a shamrock which is said to bring good luck. Something I just learned...While the four leaf clover is said to bring good luck...it is the three leafed clover that is associated with the Irish celebration St. Patrick's Day.
Another Technique
Another way to complete this toddler activity, is to use the pencil eraser method. Using the eraser of a pencil, center in the square of tissue, fold up tissue around sides of eraser, and press onto glue. This will probably be a faster technique. It will result in a puffy heart similar to this
Heart Activity.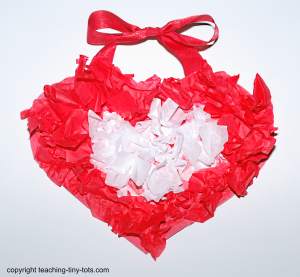 Math Concepts
Numbers and Number Sense
Counting: Practicing counting how many of one color.
Represent (How many is two,three, etc?) Ask your child to give you two beads.
Quantity (More, Less, Equal): Make two piles and ask which one has more or less.

Patterns, Sorting and Classifying (Algebra and Functions)

Sorting Objects by Attribute (color, size or shape): Sorting by color in muffin tins
Simple Patterns: Laying beads out in a row in simple patterns and identifying the next bead.
Educational Note
In the United States Independence Day, often called the Fourth of July, is a federal holiday commemorating the adoption of the Declaration of Independence on July 4, 1776. Many people celebrate Independence Day by sending off fireworks, attending parades, having barbecues or holding picnics.