Make a Lisee Envelope
Description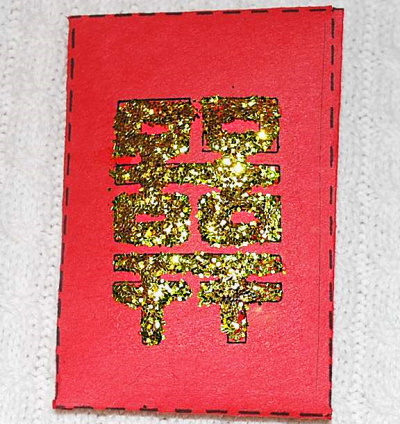 Materials
Red construction paper
Free Printable Lisee Envelope Pattern Here Print Lisee Envelope
Gold or Black Glitter for design
Nickel, Quarter, Play Money or write a New Year's Wish on a small piece of paper.
Elmers Glue
Scissors
Steps
Print out lisee envelope on red construction paper.
Put glue on the pattern and sprinkle with glitter. Dust off excess and let dry.
Cut out the envelope pattern.
Fold and Glue as instructed on the sheet
Tips and Suggestions
If you do not have construction paper, print on white paper and use crayons to color background red and the pattern black.
You can buy packs of construction paper at places like Costco (648 sheets in 12 colors) for an inexpensive price)
Other Ideas
Write a message on a small piece of paper, fold and place in envelope.
If you are just making a few you could use red wrapping paper that has a nice sheen to it.
Educational Note
It is also common for adults or young couples to give red packets to children. Red packets almost always contain money, usually varying from a couple of dollars to several hundred. Per custom, the amount of money in the red packets should be of even numbers. Sometimes chocolate coins are found in the red packets.
Chinese New Year
When is Chinese New Year?
2008
February 7: Year of the Rat
2009
January 26: Year of the Ox
2010
February 14: Year of the Tiger
2011
February 3: Year of the Rabbit
2012
January 23: Year of the Dragon
2013
February 10: Year of the Snake
2014
January 31: Year of the Horse
2015
February 19: Year of the Sheep
2016
February 8: Year of the Monkey
2017
January 28: Year of the Rooster
2018
February 16: Year of the Dog
2019
February 5: Year of the Pig
2020
January 25: Year of the Rat
2021
February 12: Year of the Ox
2022
February 1: Year of the Tiger
2023
January 22: Year of the Rabbit
2024
February 10: Year of the Dragon
2025
January 29: Year of the Snake
Gung Hee Fat Choy Banner
Description
Make a Banner to Hang that Wishes Everyone Happy New Year in Chinese.
Materials
Free printable page for banner: Gung Hee Fat Choy
Red and Black Construction Paper
Black Marker
Scissors
Glue Stick
Chopstick or thin dowel
Ribbon, Raffia or Yarn
Steps
Print out copy of the Chinese characters.
Color with black marker.
Cut each character out. Each square is 4" x 4". Write number on back so you remember the correct order.
Fold an 18" x 24" in half and cut.
Cut black construction paper to have a border around each character approximately 5" x 4 1/4 inches.
Glue black strip of construction paper onto the red construction paper.
Glue on the 4 characters in order. It is top is 1 and 2, bottom is 3 and 4.
If you desired, you can glue the chopstick behind and tie a ribbon, yarn or raffia on ends of chopstick to hang.
Tips and Suggestions
Washable marker is recommended but it will smear if not careful.
Use glue stick for gluing the paper to construction for smoothest application.
You can buy packs of construction paper at stores like Costco (648 sheets in 12 colors) for an inexpensive price