Lincoln Log Cabin
Description
Make a Lincoln Log Cabin to Celebrate President's Day. Abraham Lincoln was the 16th president of the United States. Create a log cabin with craft sticks to commemorate Abraham Lincoln. This project is appropriate for young ages with supervision or preschool.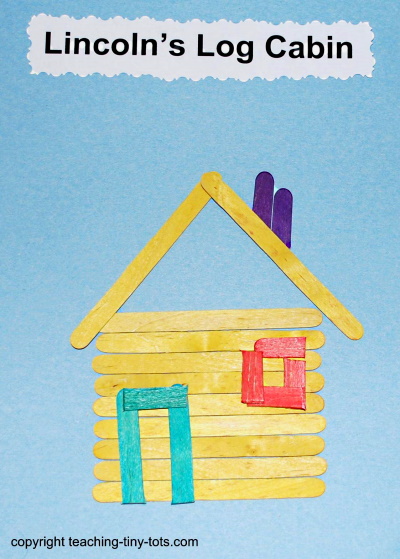 Materials
1 piece of Construction paper or card stock for a firmer completed project.
You will need approximately 14 Crafts Sticks for this project. If possible buy the long craft sticks and the short ones. There are also colored ones that are in various colors. See some of the links from Amazon below to see various sizes and colors.
Craft Glue like Aleene's or Fabri-tac (dry faster hold stronger than Elmer's glue for a longer lasting project and less chance of sticks popping off the sheet.)
Strong Scissors for cutting popsicles sticks shorter if you can't find the short ones. (Parent Use Only) Note that self cutting the popsicle sticks can cause sharp edges so you can sand them with paper or trim carefully. This should be used only with adult supervision.
Steps
Lay nine long pieces horizontally.
Use shorter pieces to make door, window and chimney.
Glue the horizontal pieces first, then add window and door.
Lay the roof on the paper to figure out location of chimney OR glue the chimney to the back of the stick so you can ensure that it won't be seen from the front.
Glue or write the title of the picture onto paper.
Let dry thoroughly before moving.
Tips and Suggestions
If possible buy the smaller sized craft sticks so that you will not have to cut the larger ones. Cutting Smaller pieces cut from the craft stick may "crack" a little but it actually adds visually to the picture. Of course be careful of any rough edges.
You can also use colored sticks like we did or even paint them prior to making the project.
Read a book about Lincoln prior to the activity. This would be a great culminating activity to a unit on Presidents or President's Day.
Educational Note
The Lincoln Log Cabin State Historic Site in rural Illinois is an 86 acre history park which houses the replica of the 1840s farm of Thomas and Sarah Bush Lincoln, the father and stepmother of our 16th president. Abraham Lincoln was a lawyer living in Springfield by the time his parents moved here in 1837, but he did visit them periodically.