Terra Cotta Kitchen Utensil Holder
Description
What a cool project for Mother's Day or for someone special. Use a small terra cotta pot to make this utensil or pencil holder. Just paint and add some decorations like buttons, shells, or glitter. You can adjust it to match a certain color or theme. Easy project for all ages with some assistance.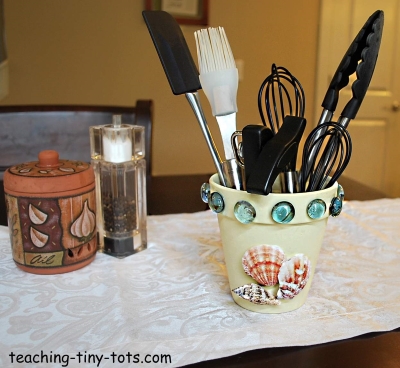 Materials
Terra Cotta Pot (one at least 4.5 inches high x 4.5 inches wide)
Acrylic Paint (Delta Ceramcoat recommended) We like this brand because it is washable until it dries.
Decorative items: Buttons, shells, flat glass marbles, beads, stickers, beach glass etc. We found the glass marbles and shells at the Dollar Tree. Mosaic tiles would also be pretty.
Fabri-Tac Recommended or Tacky Craft Glue
Acrylic sealer spray for some shine. (Adult use only)
Newspaper to work on.
Brush
Container for glue
Steps
Paint one or two coats of acrylic paint on terra cotta pot. Let dry between coats.
When dry apply 1-2 coats of acrylic spray if you want it to have a light shine.
Use Fabri-Tac glue to adhere decorations. You may need to let the pot lay on its side and dry flat if the items you are adhering are heavy or bulky like shells. Work on one side first at a time.
When dry apply 1-2 coats of acrylic spray if you want it to have a light shine. This will also help protect the paint from chipping and fading.
Fill with colored tissue or a couple new kitchen items.
Tips and Suggestions
We used Fast Grab Tacky Glue which helped hold the flat marbles onto the rim without sliding much.
Elmer's is not recommended for items like shells and marbles.
Tempera washable paint is not recommended in the event it need wiping down.
We recommend Ceramcoat Acrylic since it is washable until it dries.
You can find these pots at the Dollar Tree, crafts stores or stores that have a garden center
In a rush? You can also find some terra cotta pots already painted at craft or dollar stores that are ready to decorate during Spring.
Other Ideas
Decoupage Terra Cotta Pot
Using the decoupage technique and a larger size terra cotta pot, decorate it with favorite fabrics, pictures and use as a kitchen utensil holder.
Educational Note
Mother's Day is relatively modern, and has been celebrated from about the start of the 20th century. In countries other than the United States, mother's day is also celebrated however, it may be on a different day because of the different origins. In the UK it is called Mothering Sunday and some countries refer to is as International Women's Day.