Toddler Activities: Halloween Card
Description
A cute sponge painting activity with Halloween shapes to make a card. Perfect for kindergarten and 1st grade.
Materials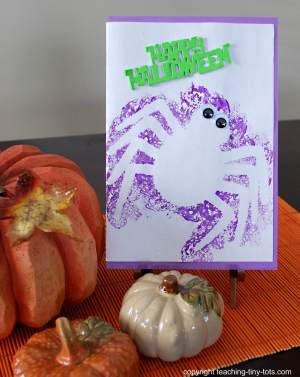 White, Orange or Black Construction paper

Free Printable Ghost and Spider Stencil

Sponge

Paper Plate or small plastic palette for paint

Paint Brush

Tempera paint (white, black, orange or purple)

Masking tape

Wiggly eyes

Foam stickers to add decoration (optional)

Scissors

Glue Stick (if you plan to create a mat for your card)
Helpful Items
Newspaper to work on
Art smock or old shirt
Steps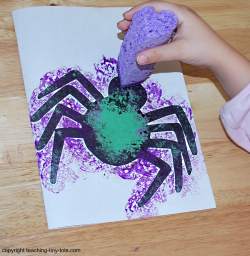 Select a stencil of your choice. Make your own, find foam shapes at a craft supply store or find pre-made holiday stencils at educational stores.
Cut your stencil out using construction paper or manila folders for a stronger stencil.
Select the color paint you want to use and then select a contrasting color of construction paper Black with white, orange with black, purple with white or orange are great combinations.
Make a loop with a small piece of masking tape and adhere your stencil to the paper to keep it from sliding.
Cut out a square or rectangular piece of sponge as shown in photo. The rectangular shape made it easy to hold.
Put paint on the palette. Dip sponge into paint lightly or use a brush to apply.
Gently stamp along all the edges of your stencil. Be sure to stamp around the entire shape to get a good outline when stencil is lifted.
Let dry for a few minutes and then gently lift stencil.
Repeat if desired in another location with the same stencil or use another stencil.
Let dry.
Add a couple Halloween stickers for additional decoration or some wiggly eyes.
Glue onto another construction paper for mat using a glue stick for best results.

Tips and Suggestions

Practice on a piece of newspaper or scrap paper first to show your child how to print without pressing to hard.
For young toddlers, apply paint for them onto the sponge.
For older toddlers, let them dip into the paint or use a paint brush to apply. The paint brush minimizes excess paint.
If you plan to mat your card, use a glue stick to create a smoother effect. Sometimes Elmer's or other glues will create a slight wrinkle in paper glued together.

Educational Tip

Read a Halloween story and talk about different Halloween characters or things that represent Halloween or traditions before making this toddler activity.