Easy Graham Gingerbread House
Description
Gingerbread Houses are an all time favorite holiday activity! Make with your child or tailor the recipe for a group of children. It was an annual school wide activity and with the help of staff, parents and teachers it was a fun filled afternoon. Photo is of a gingerbread house the girls made when they were two years of age at a play date without the milk carton.
Ingredients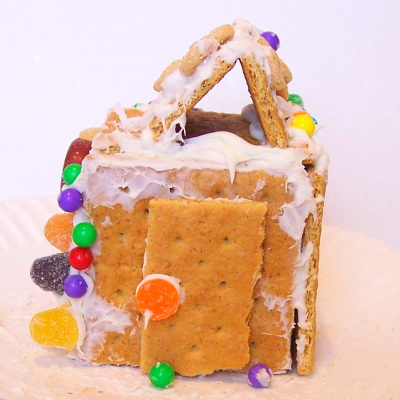 1 Milk Carton (1/2 pint size) Rinsed, dried and stapled shut on top. It is easier for young children to build with the milk carton giving it shape and structure.

Sturdy Paper Plate, Meat Tray or Cardboard Piece.

Small paper cups/containers for frosting and popsicle sticks, wooden ice scram spoons for younger children. Plastic Knife for older toddlers. Spoon to scoop frosting into cups.

Sheet of Wax Paper or parchment paper.

5 Squares of Graham Crackers (Honey Maid Brand)

Icing: See Recipe Below

Assortment of Decorating Items: Small M and M's, Fruit Loops, Trix, Miniature Marshmallows, Raisins, Dried Cranberries, Pretzels, Small Candies like Gum Drops, Candy Corn and Red Hots. You can also use crushed candy canes and sprinkle.
Materials
Newspaper, plastic table cloth or shower curtain liner to cover tables
Plastic bag with tie to hold completed house
Small freezer ziplocks to make icing bags
Paper towels or wet wipes for clean up
Icing Recipe
Ingredients
3 Egg Whites
1/2 teaspoon Cream of Tartar
1 Box of Confectioner's Sugar (Powdered Sugar)
Steps
Beat Egg whites and cream of tartar until frothy.
Add sugar and beat 5-7 minutes more (until peak consistency).
Store in an air-tight container. Refrigerate if not using right away.
Directions
Place a dab of frosting under the milk carton and secure to the paper plate, meat tray of cardboard piece.
Spread icing on four squares of graham crackers and stick to sides of the milk carton for walls.
Break the last graham square in half. Spread on icing on the cracker and put on top of the slopes of the milk carton for the roof.
Fill a ziplock bag and snip corner. Squeeze icing out to fill in all spaces where milk carton is visible.
Decorate!
Use extra crackers or broken pieces for windows, doors, chimney, etc.
Put two mini marshmallows together with frosting to make a snowman next to the house.
Make a fence around the house by using gumdrops and a pathway to house using M and M's.
Tips and Suggestions
Have pictures of gingerbread houses available for children to see.
Small Containers to put icing in while decorating. (Take out only small amount at a time because icing will harden.
Glue the milk carton to plate ahead of time.
This is great activity for a kid play date or Christmas party.
Other Gingerbread House Ideas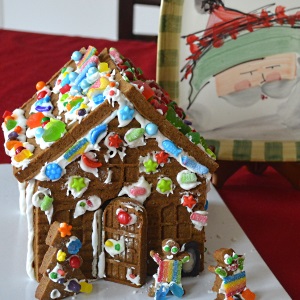 This is made using a silicone mold similar to this one on Amazon. See the one posted below. It seems to be popular and sometimes out of stock or may be seasonal so I added a second one with good ratings to consider. The one I use was from Chef's Toolbox. I make it up to a week in advance of decorating it and we use the same icing recipe posted above. This is great for 2-4 children to decorate together. It makes a great Christmas tradition too!