Flower Pen with a Personal Message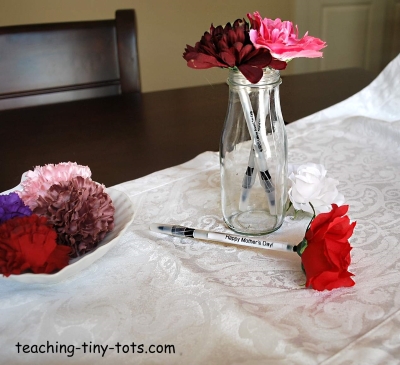 Description
Make a flower pen with a creative personal message. Cute idea for a Mother's Day Gift or even as a party favor make and take. Will require adult supervision and best done in small groups with a parent helper in the classroom.
Materials
Ball Point pen with removable plug at top of pen, with CLEAR barrel (BIC, Sakura Jelly Roll). Retractable pens will NOT work.

Large silk flower (Available at craft supply stores or stores like WalMart with a craft section)

Fabri-tac or Craft Glue. Elmers will not work because it will run into the barrel of the pen or possibly into the ink stem.

Printed message on paper about "fortune cookie message size" 2 1/2 inches x 1/2 inch

Scissors
Steps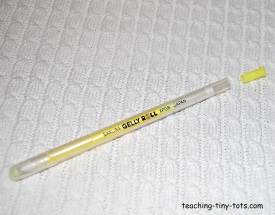 Print or write message on xerox paper. Cut paper to 2 1/2 inches x 1/2 inch. Use with paper cutter for best results (adult only)for a class activity, pre-cut pieces of paper. Make sure to have extras.
Insert message into barrel of pen.
Select flower.
Put some Fabri-Tac Glue or thick Craft glue on "stem" of flower and insert into pen. Elmers will not work because it will run into pen and possibly the ink barrel.
Let dry on side so glue does not run down into pen.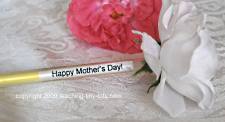 Tips and Suggestions
I found the Sakura Jelly Roll pens easy to remove the plug with just a fingernail. The BIC pens I needed my jewelry cutter to lift it off.
While a large part of this activity must be assisted with an adult, here is a few suggestions to engage your child in the activity.
My girls selected the flowers. For fun we first sorted them by color and then discussed what types they thought they were. They were able to recognize tulip and carnation. Borrow a couple flower books from the library for them to match their flower.
I had them think of a few different messages to put in the pens (Happy Mother's Day, I Love You, We Miss You, Have a Great Day, etc). I printed the message on a piece of paper and let them find the keys and they typed it on the computer. I put it in a large font for them to see well, printed a copy for them to have and then changed it to a small font size for the pen.