New Years Fireworks

Description
Make a festive picture with a "firecracker" for Chinese New Year or New Years. Simple craft for Pre School or Kindergarten.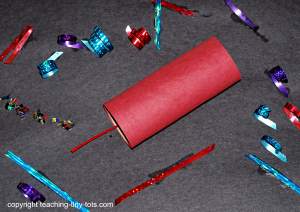 Materials
1 Sheet Black Construction Paper

1 toilet paper roll

Confetti or Ribbon, Glitter Glue, Cut pieces of Colored Construction Paper

Elmers Glue
Steps
Cut red construction paper to fit toilet paper roll.
Glue in place around roll and let dry.
Glue to black construction paper seam side down.
Decorate with your choice of materials: Cut ribbon pieces, curl a few, confetti, glitter or glitter glue, cut pieces of colored construction paper, wrapping paper or tissue.
Tips and Suggestions
Red Raffia or red ribbon makes a nice wick.
Print out the words Gung Hee Fat Choy which means Happy New Year and glue onto the page.
Print Gung Hee Fat Choy Here
Educational Tips
Share some books about Chinese New Year with your child. For young toddlers, just discuss pictures rather than reading then entire story.
Fireworks Safety
The lighting or handling of fireworks are not safe toddler activities under any condition. Young toddlers simply don't understand the danger involved and cannot act appropriately in case of an emergency. It has become tradition to celebrate Chinese New Years, New Years and the Fourth of July with the lighting of fireworks. While fireworks can be fun and beautiful, it can easily turn into a unplanned trip to the emergency room when children and adults are injured. Even the more seemingly safe fireworks such as "sparklers," have caused severe burns and eye injuries with children.
Some Basic Safety Rules
Always use under adult supervision
Read and follow directions on the packaging
Never modify or try to make your own fireworks
Never light fireworks indoors or under a covered area
Never relight fireworks that appear to have gone out or don't ignite
light only one firework at a time
Small children should be viewing fireworks from a safe distance
Follow storage instructions if you purchase them ahead of time
Light fireworks facing wick away from your body and make sure you are not pointing it at another person
Loose hair should be tied back into a pony tail.
No loose clothing that can catch on fire
Remember sparklers are still hot even when out so put in sand and away from children