Toddler Activities: Make a Father's Day Card
Description
Toddler Activities: A Special Poem for Father's Day. Make a sweet Father's Day Card with this Poem or one of our other selections.
Materials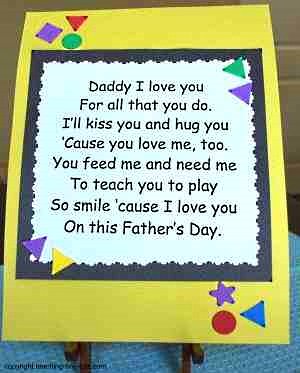 Construction Paper or Cardstock 8.5 inches x 11 inches
Free Printable Poem for Father's Day
Print Fathers Day Poem

Stickers, foam cut outs, felt, glitter, markers, etc

Craft Glue for collage items you may use like buttons.

Glue stick recommended for gluing on poem. This will provide a smoother bond than Elmers.

Craft Scissors
Steps
Select color construction paper or cardstock for your card. Use two sheets for a matting. Use a glue stick for smoother bond.
Print out poem or hand write.
Cut the poem out with Craft Scissors or a straight edge and mount on construction paper with room on all sides to decorate using a glue stick.
Decorate with fun shapes, stickers, or other collage materials. Collage materials may need a craft glue to adhere.
Fold in half as a card, or leave open to hang.
Frame (optional) and date on the back.
Tips and Suggestions
Use a glue stick to adhere all paper. It is easier for young children to manage as well.
Special Momentos
Find a couple pictures with your child and daddy and print in wallet size or smaller. Mount each picture on construction paper or cardstock to create a small frame around each picture and glue onto card. I'd recommend using a glue stick and applying the glue on both sides to be adhered for a stronger bond. Glue sticks will avoid any wrinkles that may occur.


Have any movie stubs or tickets from a day with daddy at the Zoo? Add these to make a collage around the poem.
Other Poems
F.A.T.H.E.R.S.

"F" aithful.
"A" lways there.
"T" rustworthy.
"H" onoring.
"E" ver-loving.
"R" ighteous.
"S" upportive.

Author Unknown
Footprints
"Walk a little slower, Daddy,"
said a child so small.
"I'm following in your footsteps
and I don't want to fall.
Sometimes your steps are very fast,
Sometimes they're hard to see;
So walk a little slower, Daddy,
For you are leading me.
Someday when I'm all grown up,
You're what I want to be;
Then I will have a little child
Who'll want to follow me.
And I would want to lead just right,
And know that I was true;
So, walk a little slower, Daddy,
For I must follow you."
~ Author Unknown
DADDY
If all these Kisses aren't enough,
There's two hands to help with garden stuff.
If all these hugs don't work their charm,
There's two arms to help keep you warm.
If this gift doesn't show how much we care,
We have REAL hugs and kisses to share!