Toddler Activities: Conversation Heart Pin
Description
Toddler Activities: Make your very own conversation heart with plaster of paris. Add a pin back or magnet.
Materials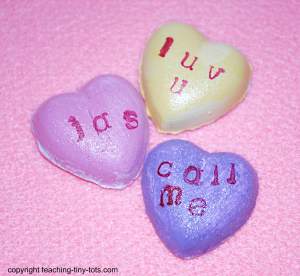 Plaster of Paris

Heart Plastic Candy Mold or Small Heart Silicone mold

Tempera or Acrylic Paint

Q-tips or Toothpicks to add designs

Small Stamps and Ink Pad

Glitter Glue (optional)

Box of Conversation Hearts Candy

Pin Back with Latch or magnet

Craft Glue such as Fabric-Tac

Acrylic Stray (optional)
Other Materials
Container to mix plaster and spoon.
Small piece of sandpaper (very fine grade)to sand edges
Steps
Mix plaster in container with spoon according to directions. Due to the fine powder this should be done by an adult.
Fill heart mold with plaster. Make it level using plastic knife and tap mold gently on surface to eliminate bubbles.
Let dry about an hour or according to directions, and pop out of the mold.
Let dry completely and sand any rough edges gently.
Paint and let dry.
Decorate with stamps, q-tips and paint or glitter glue. (see photos)
For extra gloss, spray with an acrylic spray in a well ventilated area
Glue pin or magnet to the back.
Decoration Ideas
PAINT A SOLID COLOR: For young toddlers, paint a solid color and adult spray with acrylic spray to make it shiny.
WRITE A MESSAGE: Write out on post it notes or have a box of Conversation Hearts handy and have your child select one or make up one. Write using a skewer with paint
STAMP A MESSAGE: The top picture is messages using mini alphabet stamps I found for a $1.00 at Michaels. The girls found the letters, lined them up and I helped guide where to stamp. Don't worry about even letters, the actual candy sayings are not perfectly lined up either!
ADD GLITZ: Put a dab of glitter glue on surface and spread with paint brush.
MAKE DESIGNS: Use a Q-tip, coffee stir or flat toothpick to make spots or stripes.