Toddler Activities: Halloween Bat Mobile
Description
Ready for some Halloween decorations? This easy to make bat is a cute classroom craft.
Materials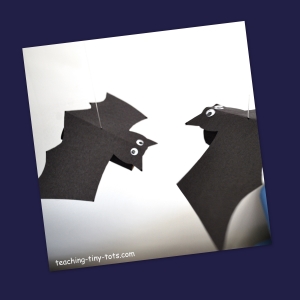 Black Construction paper 9 x 12 inches (two per bat)

Free Printable Bat Pattern

Toilet Paper Roll (1 per bat)

Elmer's Glue or Craft Glue

Wiggly Eyes

Fishing line, bead string or yarn

Stapler (need a thin hand stapler) or packing/mailing tape.

Hanger

Scissors
Black tissue
Stapler
Art smock or old shirt
Steps
Cut black construction paper to wrap the toilet paper roll. Approximately 4.5 inches x 6.5 inches.
Glue on to the toilet paper roll with Elmer's or craft glue. You might want to staple to hold paper down if you have a narrow hand held stapler or clip with a clothespin to dry securely.
Cut string to desired length and staple or tape the string or yarn securely to the middle of the roll. If you are using tape, use a packing tape for better hold.

Printable Bat Pattern
Print out pattern and cut pattern out. Fold black construction paper in half. Place on fold as shown. Cut bat out.
Open bat shape and lay on the roll. Find the middle where you placed the string. Using tip of sharp scissors, poke a small hole in the back of the bat and string from underneath. (Adult step)
Glue bat to the roll.
Crumple a small piece of black tissue and stuff the ends of the roll to hide the openings. (optional)
Bat is ready to hang from doorway or from a hanger.
Tips and Suggestions
Vary the length of the string for multiple bats for a more interesting display.
Add some spider web decoration to cover the hanger
If you want to angle some down or up, tape a coin to the inside of the toilet paper roll.
Educational Tip
Read a Halloween story about bats or read a non fiction book to learn more facts about bats. Introduce the word nocturnal.