Shamrock Rice Krispies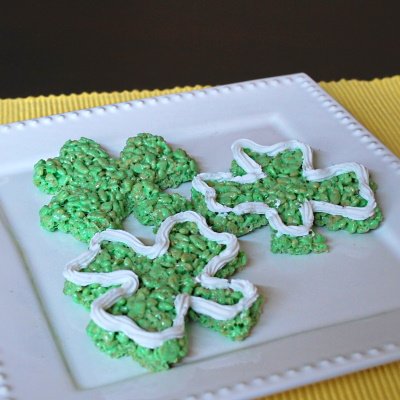 Description
Make these cute Green Shamrock Rice Krispies for St. Patrick's Day.
Ingredients
3 TBS Butter
10 oz bag Marshmallows or 4 cups of Mini Marshmallows
Food Color: We like the Wilton gels below, they are vibrant and a little goes a long way. It also has a lot of variety so you don't have to combine colors to get teal, purple, brown and black.
Frosting (tube) or you can make icing like our Cookie Icing Recipe
Other Items
Wooden Spoon to stir
Parchment Paper or Pam cooking spray
Large Shamrock Cookie Cutter (you need a large sized cookie cutter to be able to have a clear shape. We like the Wilton one listed below because it is easy to press into the rice krispies because of the cushioned grip and the deep sides.
Steps
Prepare Rice Krispies as directed above (same recipe as on the box)
Melt margarine or butter in large saucepan over low heat. Add marshmallows and stir until completely melted.
Add a few drops of green food color. Stir until well blended, add a few more drops if you would like a darker color.
Add Rice Krispies cereal. Stir until well coated.
On a cookie sheet sprayed with Pam, shape mixture into a flat shape about 1/2 inch high. (test temperature when kids are shaping this.)
Press cookie cutter into the Rice Krispies and pull away excess, then lift up the cookie cutter for best results. Young children can help at this point cut the Shamrocks as mixture will have cooled sufficiently after shaping. This cutter is perfect for young kids.
Reform into a flat surface with the excess and repeat with the cookie cutter.
Decorate with frosting.
Tips and Suggestion
Note Let Rice Krispies cool for about 30 seconds to one minute before handling. If you wait too long it will harden and be difficult to shape.
Spray hands with Pam or put a little butter on your fingers when shaping the Rice Krispies to keep from sticking to fingers.
We used a Wilton shamrock cookie cutter (see below). It will make about a dozen shamrock krispies.
Another Shamrock Idea
Here is another shamrock treat that we made with the same cutter. We love this cutter! Such nice clean lines to make this sugar cookie. Great for gifts and goody bags.
Shamrock Cookie Recipe and How To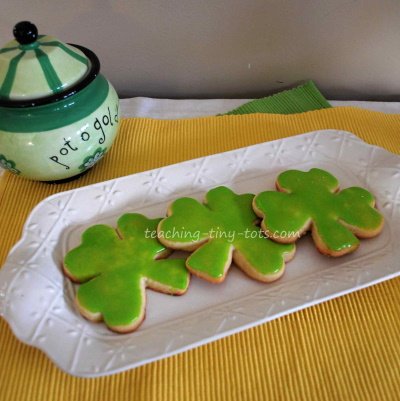 Easter Rice Krispies
Here is another holiday rice krispie treat idea. See Easter Ice Cream Cones for ideas using colored Rice Krispies Treats.