Making Salt Dough Ornaments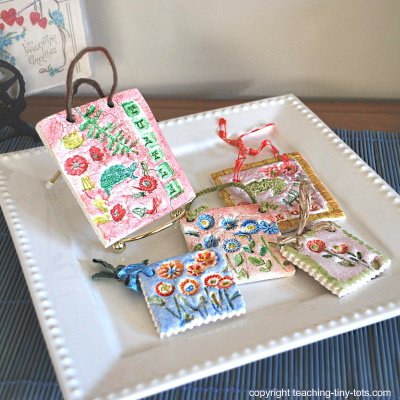 Description
Salt dough can be used every day, not just for the holidays! Here are some ideas for using salt dough for every day fun. This is great for all ages and can be done stamped with things around the house.
Materials
See Here for the Salt Dough Recipe
Cookie Cutters or Play Dough cutters
Rubber Stamps
Alphabet or Number stamps
Make your own stampers with buttons glued to dowels or Round Slot Clothespins
For edges use: chopsticks, pie crimper, fork, or a square or round dowel.
Other Materials
Non-toxic paint tempera or acrylic
Crayons
Yarn, ribbon or twine to hang
Glitter paint or glue
Steps
Make salt dough as instructed in recipe.
After pieces are dry, brush off excess flour.
Decorate with paint, glitter glue, or crayons.
Use twine, yarn or ribbon to hang piece.
Write name and date on back for future reference!
Tips and Suggestions
If you make your own stampers, make ahead of time. Liquid Nails works well to adhere buttons. This is to be done by an adult only.
The Wilton 101-Piece Cookie Cutter Set is a great set for kids. No sharp edges and cutters for all occasions. Letter and number cutters included as well. The only flaw I found was they don't easily fit back into the container provided unless you place smaller hearts into the larger ones and do this for all the shapes in varied sizes.
Educational Note
Great recipe to write out to for your child to follow as you make the salt dough. Helps to build fine motor skills.