Shape Books
Description
Shape books are great for preschool, kindergarten and lower elementary. You can make it as simple as needed or add a few more details for older children. For younger children you can focus on colors. For older children you can have them write a fact on each page. You also reinforce reading of color words with this activity.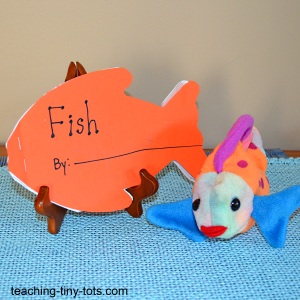 Materials
Construction paper or cardstock
White paper
Crayons
Stapler to Bind
Steps
Use our free printable pattern for your Shape Book.
Pre cut all pages and make books prior to activity.
Read Dr. Suess's Book One Fish Two Fish
Talk about the colors you are going to use. Write the color words on the board for younger children.
Have each child fill out the sheet provided with the color words or you can write it directly onto the page.
Cut the sentences into strips for the child. This is great for helping reinforce the reading of color words.
Have children draw their picture and color, glue the matching strip.
Tips and Suggestions
If you are working with very young children, you might work on one page a day and collect. That way there will be less confusion about the colors and if they make an error they can redo without having to rebind the book.
Stencils to draw may also help if children have difficulty drawing independently.
Work in pairs for children who need assistance.
Three pages are a different color. See tips above for those having difficulty drawing their on their own
This is the last page. See free printable above for pre made words for pages.
Other Fish Activities
Use our free printable and make your own
Rainbow Fish
with watercolors. Add some glitter to make his special sparkly scales.