Making Shape Books
Description
This is a perfect book for preschool, kindergarten and home school! Each page reinforces a color and is a good book to "read" together because of the patterning.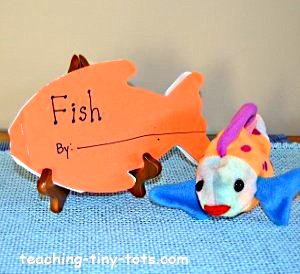 Materials
Construction paper or Cardstock
White xerox paper
Crayons
Scissors monitored by adult if child is cutting out shapes
Other Items
Materials to bind book: Stapler/book tape or Hole Punch/Ribbon
Pen to write sentences.
Steps
Print our free printable Fish Shape Book Pattern
Trace onto cardstock or use a manilla folder to make a thicker stencil.
Trace onto as many pages as you would like your book to have, and trace two fish onto construction paper for the covers.
Have your child cut the pages if she is proficient in using a scissors or pre-cut them before you begin.
Make a list of colors with your child. Choose about 4-5 colors for your book. If your child is familiar with more colors, add a few more pages.
Have your child match the sentence to the picture and glue it down with a glue stick.
Place all writing under pictures on each page to keep it uniform and easier for child to know which belongs to which picture.
Bind the book with a plastic book binder or staple on the edges and cover with colored tape. Or punch a few holes and weave a thin ribbon to hold it together.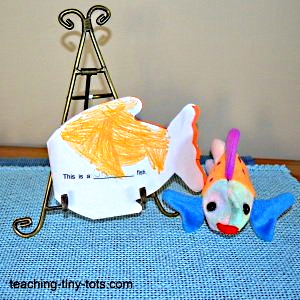 Educational Tips
When you share the book together, point to the word and say the name.
Make sure to praise your child for "reading" if they can tell you anything about the photo. Picture clues are an important reading strategy for toddler books.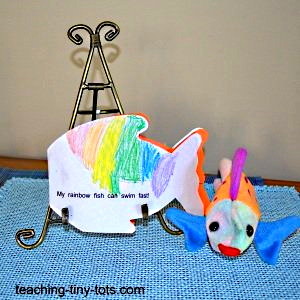 Here are a few suggested books to read with this activity