Drawing Pictures from Green Eggs and Ham
Description
Drawing pictures are a great way to motivate children to learn how to read and improve fine motor skills. It is a fun way to spend time with your kids to create their own works of art. Read favorites such as Green Eggs and Ham by Dr.Suess. Draw favorite scenes or favorite characters from the book to enhance comprehension as well as promote a love of Dr.Suess books. A great way to share a book is to do a project after reading it. Talk about the favorite characters and favorite part of the book. Great preschool, home school or Kindergarten project. Recommended Age 4+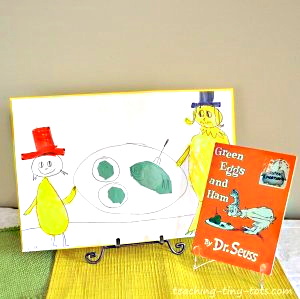 Materials
Green Eggs and Ham Book
Construction Paper (White to draw on)
Construction Paper (to add details to the picture and to mount final picture on: optional)
Pencil
Eraser
Crayons
Other Materials
Steps
Read Green Eggs and Ham by Dr. Suess.
Discuss the characters and what happened in the book.
Talk about their favorite part of the story.
Find the picture in the book and discuss what they would like to draw.
Use a pencil to draw the pictures.
Color with crayons.
Glue on pieces of construction for added details. We used green construction paper for the eggs and ham.
Mount onto another colored construction paper. (optional)
Tips and Suggestions
Magic Rub Erasers work very well. They don't tear up construction paper as much as other erasers. You can usually find them at Wal Mart and other office supply stores.
Drawing pictures are a great way to promote fine motor skills as well.
For younger children you might find a printable page online for them to color.
If this is done in a classroom, drawing pictures from different scenes can be done in groups and made into a class book.
Other Ideas
Make Green Eggs and Ham
Ingredients
Eggs
Ham slices
Green Food Dye
Steps
Cut as many slices of ham as desired.
In a small bowl add water and green food coloring.
Soak ham slices. Add more food coloring if you want it darker.
Crack eggs into a bowl and add a few drops to the egg mixture. Mix so color blends evenly.
Cook ham and eggs in a skillet with some vegetable oil.
Tips and Suggestions
Another version is to make an omelet with tiny ham cubes.
Be sure to take pictures of your special breakfast