Celebrating Your Dog's Birthday
Description
We love celebrating our pup's birthday and have since they were puppies so the girls have it perfected with decorations, food and even costumes. The pups seem to know it's all about them and get very excited from the start. Dog parties make such wonderful memories and it's a time for lots of laughs.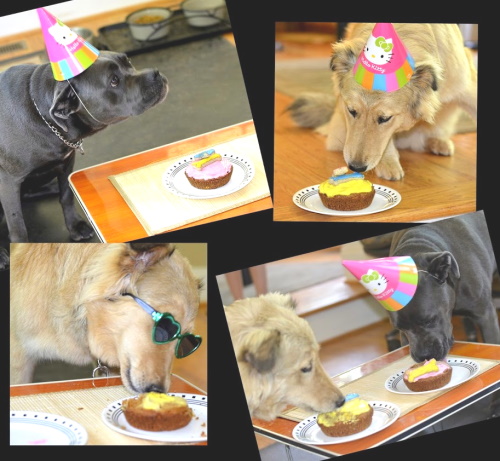 Throwing a Doggo Birthday Party Video
Girls made a video of our most recent birthday party! From the picking of costumes to the baking and decorating cakes to the "grand entrance" and of course the fun of watching them eat!
Doggo Carrot Cake
---
To print only this recipe, click below:
Doggo Carrot Cake Recipe
---
Description
This doggo birthday cake is a favorite of our pups! A carrot cake with yogurt icing makes this a special treat for special occasions. This recipe yields two pup cakes. This is the recipe we used in the above photos.
Ingredients
1 egg
1 teaspoon vanilla extract
1/4 cup peanut butter
1/4 cup cooking oil (we used vegetable)
1/3 cup honey
1 cup shredded carrots (purchased by the bag pre-shredded)
1 cup white or whole wheat flour
1 teaspoon baking soda
Things Needed
Large Bowl
Wooden Spoon or spatula
Measuring cup
Two 5 inch tins or baking dishes about the size of a pot pie
Steps
Preheat oven to 350 degrees F (175 degrees C) Grease a small 5 inch baking tin. We used Bakers Joy.
Combine the egg, peanut butter, oil, vanilla and honey in a large bowl and blend well.
Stir in the carrots and mix thoroughly.
Sift together the flour and the baking soda and fold into the carrot mixture.
Spoon cake batter into the prepared pans
Bake in preheated oven for 35-40 minutes. Let cake cool in the pan for 10 minutes. Then turn out onto a wire rack to cool completely. Cool completely before frosting.
Doggo Frosting Recipe
---
To print only this recipe, click below:
DOGGO FROSTINGS RECIPE
---
Description
We love this easy to make frosting. It is our frosting we use for cakes and decorating dog biscuits. You can color it if you want or leave it natural if you prefer. Since it's a special occasion, the girls love to add some color so they can decorate with it. You can see them making it in the video.
Ingredients
6 oz plain GREEK yogurt. We highly recommend Greek yogurt because it's thicker.
2 Tablespoons Peanut Butter
Food coloring if desired
Steps
Mix all ingredients together. (We did it right in the yogurt cup)
Spoon some into separate bowls if more than one color is desired.
Add food coloring, mix thoroughly.
If needed, thicken with a teaspoon or two of flour. Using wheat flour may change the hue a little so you might want to use white flour.
Be sure to wait until your cakes have completely cooled before frosting.
We used a pastry brush to cover the cakes. Or use a butter knife and spatula.
To make letters and dots we put the frosting into a small zip lock and snip a very small corner. Make a very tiny snip for fine lines. You can always cut a bigger hole but it is a mess to try to put it in a new bag so start very small.
With the extra frosting we painted biscuit using a pastry brush.
We refrigerated the pup cakes and biscuits to let the frosting set. We found if we used a Greek yogurt, refrigeration was not necessary.
Doggo Birthday Peanut Butter Pumpkin Cake
---
To print only this recipe, click below:
PEANUT BUTTER PUMPKIN CAKE RECIPE
---
Ingredients
1 cup flour
1/2 tsp baking soda
1/8 cup vegetable oil
1/4 cup peanut butter
1/2 cup unsweetened applesauce
1/2 cup pumpkin puree
1 egg
Instructions
Preheat oven to 350 degrees F.
In a large bowl add the flour and baking soda.
In a second bowl add vegetable oil, peanut butter, applesauce and pumpkin puree. Stir until combined. Add egg and mix well.
Mix half of the dry ingredients into the wet, mix until combined and then add the rest and mix.
Pour into a greased 8" round or square pan. We used 3 small bowls the size of pot pies.
Bake for approximately 25-30 minutes until a toothpick is inserted and removed clean.
Allow to cool for 10 minutes and then remove from baking dish and cool completely on a wire rack.
Prepare frosting if desired. Apply frosting only after cake is completely cooled.