Dinosaur Activities
Description
Dinosaurs are always a favorite topic for kids to learn about. Here are are some dinosaur activities that are great for all ages. We have a dinosaur scene using plaster of paris to build a base. This dries very quickly so it is a great make and take project.
Materials
Plastic dinosaurs, cactus
Pebbles and sand
Plaster of Paris
Plates
Plastic spoons
Plaster of Paris
Measuring Cup with Water
Plastic cup for each child
Container to mix the Plaster of Paris
Steps
Cover your working area with newspaper or paper.
Set out plates and a spoon for each project and have dinosaurs, trees, sand and any items you wish to place in the plaster of paris ready.
Have each child select their pieces before mixing up the Plaster of Paris because it has a quick drying time. For young children, you may want to plan where they place each item.
Mix the Plaster of Paris with water as directed on the package. Adults should mix this as the powder is very fine and should not be inhaled.
Pour about 1 cup of Plaster of Paris into the plastic cup for each child.

Pour into plate. Gently shake the plate side to side for the plaster to evenly distribute and smooth out the plaster.

Gently place the large items first. The dinosaurs, cactus, etc.
Place the pebbles next.
Sprinkle sand with a spoon . When it dries you can remove excess.

Let dry completely. When plaster has dried, gently remove dinosaur scene from the paper plate and shake off extra sand.
Dinosaur Fossils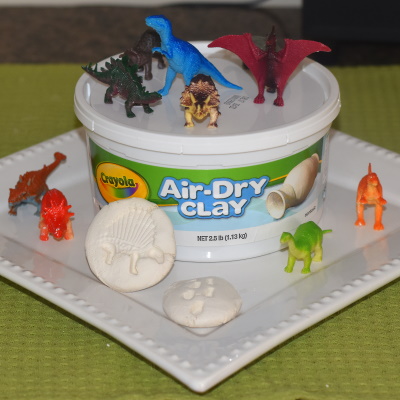 Description
Using Air dry clay you can make these dinosaur fossils. The type of fossil we will be making are molds of dinosaurs and their footprints.
Materials
Air Dry Clay
Plastic Dinosaurs
Steps
Select your dinosaurs.
Take a piece of Air DryClay and roll it flat about a 1/2 inch high. Make sure it is a little wider all around than the dinosaur.
Press gently into the clay and then pull dinosaur off the clay carefully.
Sometimes bits of clay will stick to the dinosaur but if you are satisfied with the impression than select another dinosaur to mold.
You can make foot prints or multiple dinosaurs at once.
It will take several days for the clay to harden especially the larger, thicker pieces.
Fossil Facts
Fossils can be classified by different types according to how they were formed. There are fossils of bones and teeth that have been turned into stone. This is called petrification. Some animals and insects were preserved When they became trapped in tar or amber or ice. Sometimes fossils are a mold or outline of an animal, not the animal itself. This is the type of mold we made above.
Dinosaur Books