Festive Christmas Trees

Description
Make a Festive Christmas Tree using simple materials...no two trees will be alike! Great for class projects done in small groups. Appropriate for ages 4+ with assistance.
Materials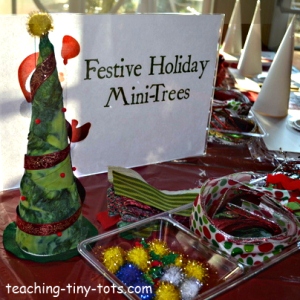 Cone made of cardstock or construction paper.

Strips of Christmas colored or printed fabric approx 1.5 inches by 15 inches.

Various Christmas decorations like pom poms, ribbon, bells, small floral tie ons

Foam Brush

White Elmer's glue for glitter and craft glue like Aleene's Tacky Glue for leaves and berries.
Other Materials
2 or 3 Paper plates

Wipes or paper towels handy to wipe hands after printing

Paper plates or newspaper to dry on.

Bag to take tree home in.
Steps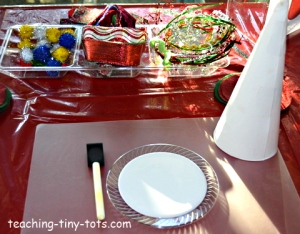 Have cones made in advance. Test shape and size by placing strip of fabric and wrapping without glue. A slightly wider cone will be easier to cover for young children.
Place all materials needed in small trays or dishes.
Pour glue into container and have sponge brushes ready.
Lay selected fabric on work mat and spread glue onto the fabric.
Starting from the top, wrap the fabric around, overlapping so none of the paper shows. This will create some folds and wrinkles in the fabric which give added interest.
Add glue to base and attach the tree. This is best with craft glue or a glue gun.
Add decorations to the tree using ribbons, small decorations.
Attach the pom pom to the top of the tree. Snip or fold top for easier application.
Let dry on a plate or newspaper.
Tips and Suggestions
Test cone shape. The taller and more narrow the cone is, the more difficult it is to wrap strips for younger children.
Test width of cloth strips.
Be sure to have wet paper towels or wipes handy.
Take some pictures...no two trees will be alike!