Christmas Topiary
Description
A Christmas topiary is a beautiful gift for teacher or friend as well as a nice centerpiece. If you have all the materials ready to use, even 5 year olds can make this with some assistance. Changing the pot wrapper color or the bow can make this a gift for any occasion.
Materials for the First Christmas Topiary
1 potted plant (Variegated Ivy suggested)
1 Foil Pot cover
1 Piece of topiary wire about 19 gauge
1 Bow
Pliers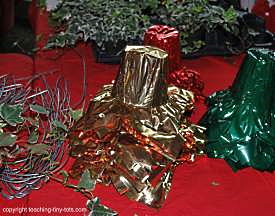 Steps
Bend wire to form shape desired with adulta assistance or for very young children, bend the wire in advance.
Select plant and place in pot cover.
Gently hold up trailing pieces of the vine and push wire into soil in pot to secure.
Wrap trailing pieces of ivy around the wire.
Add a bow on the wire to decorate.
If you are doing it with a group of children, set it up assembly line style.
You could tailor this to any holiday or occasion. Simply change the color of the foil wrapper and the bow to suit.
Educational Note
Variegated Ivy
Variegated ivy leaves will typically have green and white or yellow markings on their leaves. The white and yellow areas on the variegated ivy leaves lack chlorophyll. Chlorophyll serves many purposes, the main ones being producing food for the variegated ivy plant and protecting the plant from the rays of the sun. Because variegated ivy leaves have less chlorophyll, the plant produces less energy for growth. This means variegated ivy plants tend to grow much slower than their all green cousins.
This means that variegated ivy requires slightly different care than green ivy. A variegated ivy plant needs less sunlight and should be placed out of direct sunlight. Proper care of a variegated ivy requires that you place the ivy plant in indirect or filtered bright sunlight. Variegated ivy leaves will burn if placed in direct sunlight. Variegated ivy will do best on a window sill behind a sheer curtain. The second tip is to significantly reduce the amount of fertilizer you give the plant.
Christmas Moss Topiary
Description
This makes a really cute Christmas topiary using moss. Young children 5+ can make this with adult assistance. This was the activity for all the children who attended a Christmas event at a botanical garden. The end result is beautiful but it was a bit more difficult that the ivy topiary above.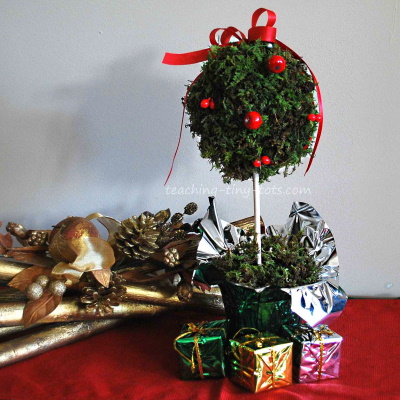 Materials for the Christmas Moss Topiary
1 foil pot cover
1 pot
Cylinder Shaped Styrofoam to fit pot
Dowel
Round Styrofoam Ball
Moss
Ribbon
Various decor, berries, pine cones on wires
Small brass brads about 1 inch
Craft Glue
Place pot into foil cover and place cylinder shaped styrofoam in the pot.
Gently press dowel into cylinder shaped styrofoam and into circle styrofoam.
Remove the dowel and put glue into the hole made by the dowel in the styrofoam. Push the dowel back into both pieces. Let dry.
Take a piece of moss, place in the pot to cover the styrofoam. Repeat until base of dowel is surrounded by moss.
Take pieces of moss and place on round styrofoam. Push a brad into the styrofoam to secure.
Continue until entire styrofoam is covered.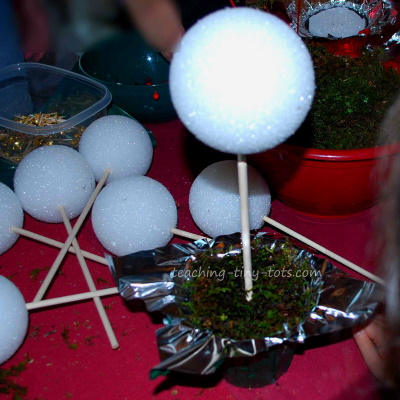 Decorate with various floral wired pieces. Twist into the moss or use a skewer to poke a hole for it to go in for more secure placement. (Adult should poke the hole if a young child is making it.)
Tie a ribbon around the entire piece.
Use a spray bottle to spritz water to keep it fresh.
Tips and Suggestions
Be sure that you let glue dry to hold the dowel in place or it will move around as you apply the moss making it difficult to secure.
Brads should be first inserted by adult and then if child is able, push the rest of the brad into the styrofoam. This was the most difficult part of making this Christmas topiary.
A wreath shaped styrofoam would be another idea