Cardboard Play House 
Description
Make a cardboard play house. You can use a box from a refrigerator or appliance or you can even find pre-made ones on Amazon. I provided a few ideas below from Amazon where your child can color it or find one that has options to choose a castle, a garage, a fun house or a gingerbread house. This might be a great idea while we are in quarantine to keep kids busy and creative.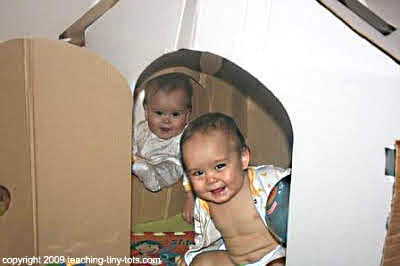 Materials
Duck Tape
Box Cutters (Adult Use Only)
Markers or crayons
Ideas to Decorate
Pictures hung with Blu Tak
Blankets or play mat
Fabric or light towels to make curtains
Small stool or box for toys
Steps
Cut a door with the box cutter. (Adult Only
Cut windows in basic shapes like circles, squares and triangles to help develop shape recognition.
Use two flat pieces for the roof and duck tape it securely.
Place blanket or play mat inside.
Decorate the interior of the house with pictures drawn by your child or print out some family photos.
Place a couple small baskets with a few toys to draw interest in playing in the house...your child will soon discover the windows to peek out of.
Tips and Suggestions
Tape on the interior as well as the exterior to reinforce the structure of the box.
Prior to letting your child help decorate the house, make sure there are no large metal clips, staples and other sharp objects. Cover any rough edges with duck tape or remove.
Great opportunity to talk about recycling.
Other Ideas
Have fun with paint but cover your floors and wear play clothes
Hang pictures they drew on the walls inside the house. Yes...scribbling counts!
Hang printed pictures of family members on the walls
I had some large sticker letters so we put the girls names inside the house.
Or trace some letters and numbers and help your child put your house number on the front door.
Make a mailbox by taping a small box to the outside of your house.
We had a few hawaiian print outfits that were outgrown and we hung one above a window from the inside.
Educational Note
Two types of cardboard can be recycled: flat cardboard, which is typically used in cereal and shoe boxes, and corrugated cardboard, which has a ruffled layer between the two flat pieces of cardboard and is often used in packing boxes. Both can usually be recycled through your neighborhood recycling program. Cardboard is one of the most commonly recycled materials. The durability of cardboard allows it to be recycled into various paper products such as new cardboard, paper, bags, post-it notes, note pads and more.