Make a Bean Collage
Description
Count, sort and create! Using various beans create an abstract bean collage or a picture of animals, flowers. Make shapes, letters and animals. Could be an art activity for a plant unit as well.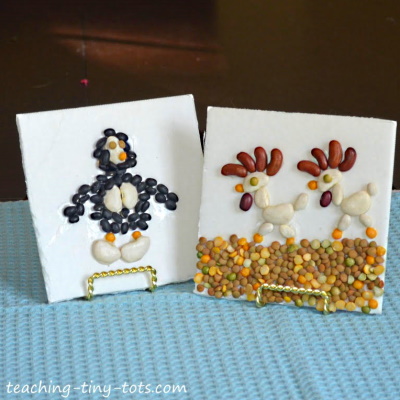 Materials for Bean Collage
1 Bag of Soup beans will easily cover 6 children or more. See below for the type we buy. I find these at Walmart for just a few dollars. For large groups you might want to buy a bag of each type of bean that you want to use. Some beans we suggest are

Black Beans

Black Eyed Peas

Chickpeas (Garbanzo Beans)

Great Northern

Kidney Beans

Lima

Pinto

Small Dishes or paper plates for Beans
Oaktag or Cardboard
Craft Glue (dries stronger, faster) much easier to set beans in place.
Q-tips for individual placement of beans
Small sponge brush to apply glue in areas where beans will be randomly placed.
Steps
Read a book if you are doing this as an activity. We have a few suggestions below.
Sort and Count beans if you'd like to add that as part of the activity.
Discuss size and color and shape of beans. Talk about what bean would be good to use for the ground, animal or object you are making.
Draw with pencil lightly a sketch of what you would like your bean collage to look like.
Plan a picture on a workspace and then glue beans onto the cardboard.
Tips and Suggestions
Plan your picture before you start gluing. It will help to decide on the size of board you need as well as to consider how it will look when finished.
For small beans we brushed on small areas of glue in a thick layer and then sprinkled the beans.
Print out pictures of a book if you are using the story to generate pictures.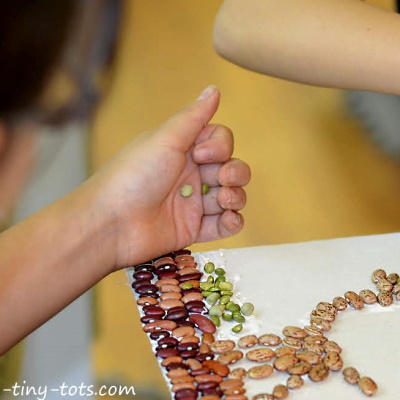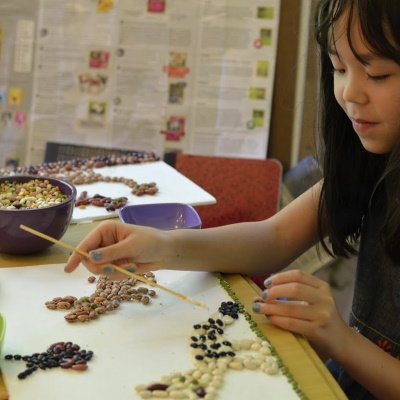 Other Ideas
Make simple patterns with the beans. Provide a lined piece of cardboard with rows for them to glue their patterns on it. Or print a sheet with basic shapes outlined on it.
Write their first name on a piece of cardboard and have them glue on beans to form the letters.
Print a page with different shapes and glue beans on the edges of the shape to create and outline and reinforce shape recognition.
Make a simple outline of a picture for younger children and have them glue on the beans to decorate.