Aloha Week
Description of Aloha Week
Aloha Festivals was first held in 1946 as Aloha Week, and over the past six and a half decades has become a celebration of Hawaiian culture, integrating the traditions and cultures of the Islands through music, dance, cuisine and art.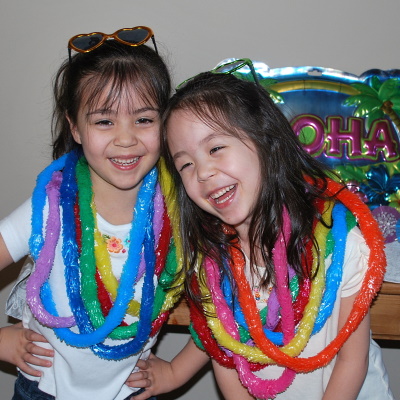 Haupia
In the classroom we would celebrate Aloha week with various art activities including making Haupia with the children. Haupia is a Hawaiian sweet made from coconut milk, cornstarch, and white sugar. It has the consistency of a pudding and is best served chilled. We also enjoy it in other desserts like Haupia Pie.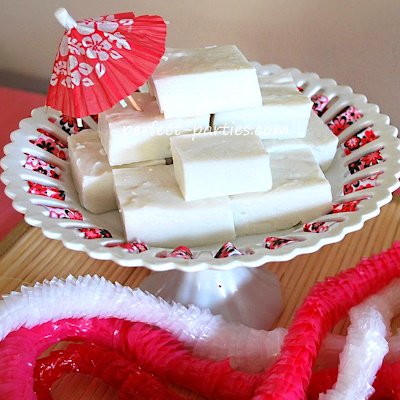 Ingredients
2 cans of frozen Coconut milk (Mendonca is a favorite brand)
10 Tbs sugar
10 Tbs cornstarch
1 1/2 cups water
Other Materials
9 x 13 pan
Large pot and wooden spoon for stirring
Steps
Combine sugar and cornstarch. Then add the water.
Pour the coconut milk into the pot. Add the sugar, cornstarch and water mixture.
Cook on medium high heat. Stir until it boils. Remove from heat after one minute.
Pour into a 9 x 13 pan. Let cool until firm. Cut into squares. Refrigerate to keep fresh.
Tips and Suggestions
Stir frequently to keep mixture from scalding.
Have the recipe written out and point out ingredients and steps as you go.
Line up ingredients on table to help reinforce sequencing skills.
Have children guess if this will be a salty or sweet treat.
Classroom Activity
For each recipe we did in the classroom, I made a set of cards. Each step of the recipe went on a separate card and laminated it for future classes. This is a great method for practicing reading and sequencing. It's also very helpful if you choose to make a book. Each card represents one page. Place the cards in order and tape to a surface for easy reference. After the activity is completed, you can go back and talk about the sequence of the cooking activity and have children place cards in order. Free Printable
Recipe Cards Here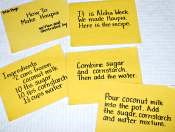 Tips and Suggestions
Easy activity to make a book to go along with the recipe. See photo below to facilitate the book making process.
Cut into fun shapes with cookie cutters or Jello cutters.
Stringing Paper Flower Leis for Aloha Week
Description
We made leis from flowers cut from construction paper and pieces of cut straws in between. It was very simple but a great fine motor activity for kindergarteners. This photo is from pebbles in my pocket a site with some really cute paper products you can buy.
Materials
Free Printable Print Flower Pattern Here
Colored construction paper
Colored straws
Scissors
Single Hole puncher
Yarn and Plastic yarn needles
Steps
Cut the flowers out from the construction paper
Make a single hole punch in the middle of each flower
Cut the straws into 1: lengths
Cut a piece of yarn and tie a knot at one end
String the flowers on the yarn with a piece of straw between each one. Tie two ends of the string together to make a completed circle.
Seashell Hanging