Toddler Recipes: Easter Bunny Nests
Toddler Recipes: These cute Easter treats are perfect for an Easter party or to share with classmates!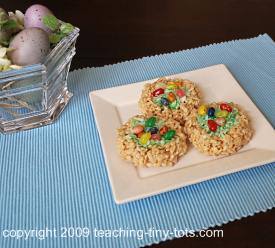 DESCRIPTION
Mold Rice Krispie treats into nests and fill with colored coconut and candy eggs.
INGREDIENTS
6 cups of Rice Krispies Cereal
3 TBS Butter
10 oz bag Marshmallows or 4 cups of Mini Marshmallows
1/2 cup shredded coconut.
food color
Assorted Jelly Bellies or malted eggs
OTHER ITEMS
Wooden Spoon to stir
Waxed Paper or Pam cooking spray
small ziplock bag
STEPS
Tint coconut by placing 1/2 cup coconut into a small ziplock bag. In a very small dish put a 1/4 tsp water with one drop of dye. Add a second drop for darker tint. Add to ziplock and shake until coconut is tinted.
Melt margarine or butter in large saucepan over low heat. Add marshmallows and stir until completely melted.
Add Rice Krispies cereal. Stir until well coated.
Shape mixture into 16 three inch nests. (Adult only)
Have children fill cooled nests with tinted coconut and small candies.
Build nests on waxed paper or lightly sprayed surface with Pam.
TIPS AND SUGGESTIONS
Note Let Rice Krispies cool for about 30 seconds to one minute before handling. If you wait too long it will harden and be difficult to shape.
Spray hands with Pam or put a little butter on your fingers when shaping the nests.
OTHER IDEAS
Cute Party Platter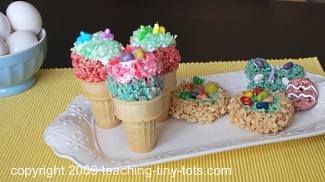 Make a party platter with a colorful Easter tray full of treats!
See Easter Ice Cream Cones for ideas using colored Rice Krispies Treats.







EDUCATIONAL TIPS
Write out the recipe for your child to follow. Line up the ingredients on the counter so they can match ingredients on the recipe and follow along as you make the Rice Krispies treats.
Great opportunity to discuss colors and shapes.