Toddler Travel: Entertainment for Travelling with Babies and Toddlers
A large part of travelling with babies and toddlers requires some form of entertainment or distraction when they aren't napping. A few items can make this much easier to do.







DESCRIPTION Toddler Travel is always full of preparation...and one of the most important is items to entertain your child during travel. Here are some of our suggestions for babies, toddlers and young children
Keeping Babies Entertained
Small Toys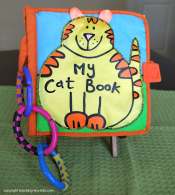 Soft books or toys with loops make it easy to attach links. Attach the links to the straps or your carseat to keep from falling to the floor. Helpful in cars when you are driving to keep baby from dropping items as well as on the airplane where you don't want items to drop on the floor. Especially items your baby puts in their mouth!
Lovey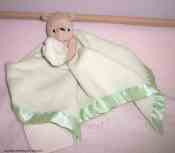 If your baby seems to be getting attached to their lovey...buy one or two more because they are constantly changing them. This particular one we could add a couple links to Pooh's arms and slip it onto the carseat straps which made it secure for car and plane rides. This was probably the most soothing item for travel when they were babies.
Soft Puppets

Soft puppets that take little space are great for distracting little ones!
Keeping Young Toddlers Entertained
Washable Triangular Crayons
No Rolling!!

Crayons with three flat sides. Perfect for airplane rides or if you have a activity valet for your vehicle. These crayons lay flat and will not roll. But they can be dropped so give your child one at a time.
Note pads
Cute notepads with colored newsprint. Perfect for even the youngest toddler. Pair it with a box of washable crayons and you have a set that will make any child happy.
Mini Photo Books

Miniature photo books are cute! Print out favorite pictures or ones of family and friends you are going to visit. Children love looking at photos and this may keep them entertained longer than a book for some children.
Mini Board Books

Inexpensive and small, perfect for travelling. These were 3 x 3 inches.
Children's Flashlights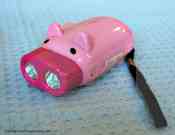 My girls got these from their auntie and it has been a huge hit. This particular one requires no batteries. Also handy when reaching your destination. We let the girls keep it with them at night when visiting relatives which seemed to make it easier for them to adjust to sleeping in a different room.
Keeping Older Toddlers Entertained
Car Valet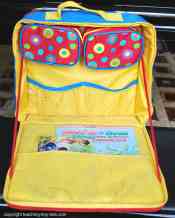 Great for older toddlers who are sitting in the lower car seats. Keep in mind this car valet will fit differently in a car versus a mini van. Now that the girls are older and can zip and unzip it on their own, this is great for long car rides. It keeps me from having to constantly pass things to them and they just zip it up when they are tired.
Small Toys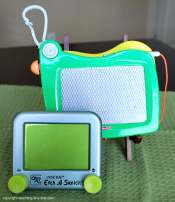 A Mini Doodle Pro or Mini Etch-n-Sketchare great toddler travel item for older toddlers who are familiar with the larger version and know how to use it properly. Be sure you are able to monitor your child while using these toys for safety. Best used for airplane travel when you are sitting next to your child.
Small Games
These are small toddler travel games we found at Target and Craft stores for $1. The item on the left is a matching game like Memory and on the right is a Tic Tac Toe game with cute wooden markers to play with. Great game to play with an adult on a plane to monitor pieces or something to do at the airport, or at your destination.
Color Books
Small color books with lots of pages. You can find these at craft and some Dollar Stores.
Stickers

Mini sticker color books are great to keep children entertained. We found some at Michaels craft supply for $1. It was an Elmo mini coloring sticker book and it kept the girls occupied for an hour and a half in the car. My husband said it was one of the best dollar we ever spent!
Mini Craft Projects

These are boxes with a simple craft project like stringing foam beads, decorating a notepad. All items needed are in the box. We found these great for airplane rides or for weekend visits with family. Nice deal for a $1.00 at Michaels Craft Supply.
As always, it is a good idea to check for recalls and examine items closely to gauge whether or not it is appropriate for your toddler. Although there are often age recommendations on the box...keep in mine those are only guidelines. You know your child best!