Toddler Activities: Make a Heart Keychain
Toddler Activities: String together pony beads and make a cute keychain. Add charms or other shaped beads for variation. A great activity to work on fine motor skills.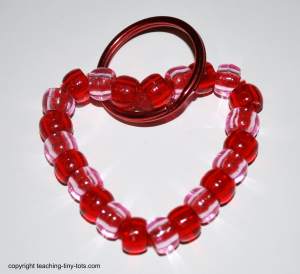 DESCRIPTION
Using pony heart beads and jewelry cord, your child can string together a cute bracelet.
MATERIALS
Pony beads (23 beads makes a 2.5" diameter heart)
Letter pony beads, hearts, stars or charms (optional)
12" pipe cleaner (Use white for clear beads)
Fabri-tac or Craft Glue
Key Chain Loop
Wire cutters (jewelry cutters)
STEPS
Bend 1.5" of the pipe cleaner.
String beads onto pipe cleaner.
Slide keyring before closing loop.
Twist pipe cleaner 2 tight twists and secure with Fabri-Tac Glue. (Adult step)
Shape into a heart shape.
TIPS AND SUGGESTIONS
Work on a blanket on the floor so beads rolling or falling off tables aren't an issue.
Use an empty egg carton to sort colors or make a pattern for stringing.
Glue gun will also work to secure knot.
OTHER IDEAS
Tie a ribbon and attach to a gift.
Glue to cardstock and make a special valentine card.
EDUCATIONAL TIPS
Practice patterning skills...lay out beads in simple patterns and have child guess the next shape or color bead.