Toddler Activities: Christmas Handprint Wreath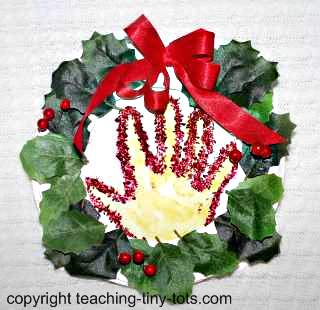 DESCRIPTION

Christmas Toddler Activities: Make a ornament for the tree or a decorative wall hanging with your child's handprint.

MATERIALS

Tempera Paint
Brush and Paper Plate or Pallette

Two thin paper plates 6" for ornament or two large plate older toddler or for wall hanging.

Glitter
Ribbon and Premade bow
One branch of plastic holly leaves and berries from craft store
White Elmer's glue for glitter and craft glue like Aleene's for leaves and berries.

OTHER MATERIALS
2 or 3 Paper plates
Wipes or paper towels handy to wipe hands after printing
STEPS
Spread tempera paint on a paper plate or use paintbrush and apply paint to your child's hand
Make a handprint on one small plate and let dry.
Trace handprint with glue and sprinkle glitter around the print. Wash hands after this step to ensure glitter doesn't go into eyes.
Second plate: Cut center of plate out.
Cut leaves and berries from branch. Glue onto rim of second plate using craft glue.
Add bow at the top or bottom.
Let dry
Glue two plates together to frame the handprint.
TIPS AND SUGGESTIONS
Place child's hand on plate to determine if the 6" will be big enough. If child's hand is larger than the 6" use the dinner size plate.
If your toddler is hesitant to place hand in plate as one of my daughters were when younger, paint their hand with the tempera.
Be sure to have wet paper towels or wipes handy.
OTHER IDEAS
Classroom Tips
If it is for a large group of children you can use construction paper leaves.
You can use the red Christmas garlands to make the "berries" to still have the 3-D effect. Cluster the berries in groups of three.
Pre-made tree bows are fast and inexpensive for larger groups of children.
Handprint Ornament

The girls made a simple ornament at school using construction paper, tracing their hands and decoration with their picture and sequins.